Bitcoin's Rally Makes Ultra Bullish Analyst Revise His Target Higher
By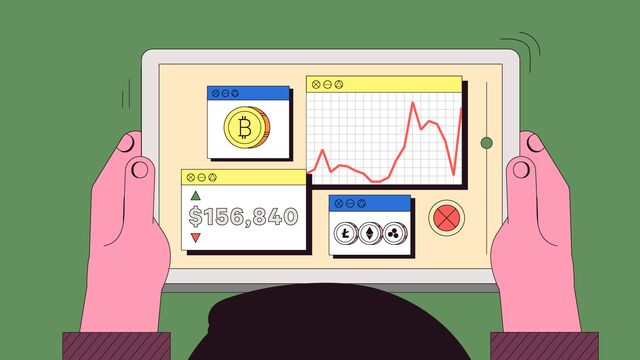 Even the most bullish analysts can't keep up with bitcoin's rally.
Standpoint Research's Ronnie Moas, who says bitcoin's market cap will one day catch up to gold at $8 trillion, is raising his 2018 price target for the digital currency to $11,000 from $7,500.
"Every day more headlines are hitting the newswires on crypto," Moas wrote in a note emailed to clients today. "More countries are embracing it and the few obstacles that were standing in the way are falling down like dominoes."

Bitcoin has surged to record highs every day this week, surpassing $7,000 for the first time Thursday after CME Group Inc. said it plans to start offering bitcoin futures by the end of the year. The cryptocurrency's market capitalization has grown to over $120 billion from less than $20 billion at the start of the year as its price surged more than 600 percent. The rally has made it hard for analysts to keep up.
Growing interest in cryptocurrencies and their underlying technology, blockchain, is driving gains in the first and biggest digital asset. There are now more than 100 cryptocurreny-focused hedge funds, while startups are raising more money through initial coin offerings than through venture capital. Regulators across the globe are scrambling to come up with a framework for the new sector, while ventures are springing up to cater to institutional investors itching to get a piece of the action.
Moas says bitcoin's price will keep soaring as he predicts up to 5 percent of the global population will be invested in the asset in five to 10 years from less than 0.5 percent today, while circulation will be capped at 21 million coins because of how the computer code was built. "I have never seen a supply-demand imbalance like this in my life," he says.
Read more on how big investors are taking sides on bitcoin
The price rally is prompting an increasing number of bankers and analysts to say it's a bubble about to burst. The latest to chime in is Societe Generale SA's deputy head Severin Cabannes, who today said "bitcoin today is in my view very clearly in a bubble." Credit Suisse Chief Executive Officer Tidjane Thiam's words mirrored his Thursday, while JPMorgan Chase & Co. CEO Jamie Dimon has said it's a "fraud."
Moas disagrees. 
"What would we expect them to say?" Moas wrote. They're "heavily invested in the publicly traded U.S. banks that are threatened by cryptocurrency. Bitcoin is not a scam and it is not in a bubble. You are more likely to find scams and bubbles in the U.S. stock market."
Before it's here, it's on the Bloomberg Terminal.
LEARN MORE