Bain to Pursue Purchase of Tropical Island Airline
By , , and
Consortium bidding for control of Trans Maldivian Airways

Buyout firm partners with Chinese conglomerate Tempus Group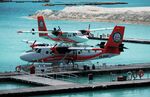 Bain Capital LP is in the final stages of bidding for Blackstone Group LP's seaplane operator in the Maldives, the tropical island chain known for its white sand and turquoise waters, according to people familiar with the matter.
The buyout firm is partnering with Chinese conglomerate Tempus Group Co. in its bid for control of Trans Maldivian Airways Pvt, the people said, asking not to be identified because the matter is private. The consortium has been discussing a valuation of about $500 million, though precise terms are still under negotiation, according to one of the people. Blackstone remains in talks with other potential acquirers, the people said.
Trans Maldivian, which owns one of the world's biggest seaplane fleets, carries visitors from the country's international airport to luxury resorts on other islands. Blackstone has been exploring options including a possible sale after receiving takeover interest in the company, people familiar with the matter said in September.
Any deal would add to the $26.7 billion of acquisitions in the Asian travel industry over the past three years, data compiled by Bloomberg show. Blackstone aims to reach an agreement by the end of the year, according to the people.
There's no certainty the discussions will lead to a transaction, the people said. Representatives for Bain and Blackstone declined to comment. Tempus Group didn't answer several calls to its office and an email seeking comment. 
Chinese Holidaymakers
Tempus Group runs businesses including tour operator Shenzhen Tempus Global Travel Holdings Ltd. Shares of Tempus Global Travel have fallen 11 percent in Shenzhen trading this year, giving the company a market value of about $1.3 billion.
The Maldives has attracted investment from Chinese online travel agencies and private equity firms seeking to cater to Chinese holidaymakers, who account for the largest group of arrivals in the Indian Ocean archipelago. The Maldives is one of the few countries where Chinese tourists are automatically issued a visa on arrival.
Bain has shown interest in leisure transactions in Asia before, investing in a Japanese hot spring operator in 2015. The private equity firm also formed a joint venture with billionaire Richard Branson's Virgin Group in 2014 to operate a cruise line.
Blackstone bought control of two seaplane operators in the Maldives in 2013. Their combined business operates 46 aircraft with around 120,000 flights annually, according to Trans Maldivian's website. Seaplanes are aircraft with pontoons mounted under the fuselage, allowing them to land on and take off from water.
The Maldives is a group of about 1,190 coral islands located southwest of India. Last year, the total number of tourists to the islands reached 1.29 million, compared with a population of fewer than 400,000, according to government data.
Peter Grauer, chairman of Bloomberg LP, is a non-executive director at Blackstone.
Before it's here, it's on the Bloomberg Terminal.
LEARN MORE