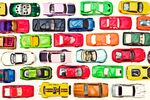 "Why don't investors care about Tesla's earnings, profits or other financial metrics traditional carmakers like us are consistently judged on?" an Asian automaker asked at a recent meeting, echoing a perennial gripe.
As Gadfly's Liam Denning has pointed out, Tesla Inc.'s shares seem utterly indifferent to what's going on on the balance sheet. While big earnings misses such as the one we saw this week can prompt dips, the stock tends to trade more on future promise.
Other automakers are starting to catch on.
Shares in car manufacturers are gunning past the broader market as companies wax lyrical about electric vehicles, trying to regain control of the narrative Tesla disrupted with its new vision. Conveniently, many EV pledges popped up around the same time as China said it would unveil a schedule to ban fossil-fueled cars in the world's largest auto market.

The Renault SA-Nissan Motor Co.-Mitsubishi Motors Corp. alliance has said it plans to introduce 12 pure-electric-powered cars and derive 30 percent of sales from EVs by 2022. Honda Motor Co. aims to have a line of electric cars capable of charging within 15 minutes by that year, while Volkswagen AG has said all 300 models in its range will have an electric version by 2030.

Never mind that most of these companies get the bulk of their sales today from fuel-powered cars with internal combustion engines. Or that sales growth has plateaued in China and turned negative in the U.S. Or that profits are falling as carmakers trot out extra incentives to get buyers to bite, and plunge billions into R&D.

As the earnings season unfolds, it's worth separating some of the rosy rhetoric from financial reality.
Take Honda. The Japanese carmaker's U.S. sales surpassed analyst expectations, but Honda got there with hefty buyer incentives that led to a 660 million yen ($5.8 million) operating loss in North America. It also reported robust SUV sales out of China, but was helped by buyers there shifting away from Hyundai Motor Co. and other South Korean carmakers in the wake of political tensions. Domestic capacity, meanwhile, is being slashed by 25 percent to counter weakened demand. Still, a 90 billion yen share buyback saw investors send the stock up as much as 6 percent in Tokyo on Thursday.
Then there's Suzuki Motor Corp., which boosted its full-year operating income forecast by less than estimates. Releasing first-half results Thursday, it said talks with Toyota Motor Corp. for an electric vehicle venture are ongoing, adding in the same breath that introducing EVs in India will require a large investment. Suzuki's shares closed broadly unchanged having rallied 52 percent since January.
Mazda Motor Corp., whose shares surged after the announcement of its EV tie-up with Toyota this summer, also reported first-half operating profit that came in 13.4 percent lower than last year and missed analyst estimates. Mazda's U.S. sales in October dropped 4.7 percent from the year before, while buyer incentives per unit jumped 34 percent.
Slowing sales in two of the world's largest auto markets is undoubtedly going to make hawking cars more competitive and it will become increasingly difficult to rely on sales forecasts, or analyst estimates.
As predictions and promises brush aside tough realities, perhaps investors will have to get comfortable with revenue and profit playing a less important part in moving a company's share price. It's working for Tesla.
Before it's here, it's on the Bloomberg Terminal.
LEARN MORE