Air Force Plans $10 Billion GPS III Contest Amid Lockheed Delays
By
Troubles with first 10 satellites blamed on subcontractor woes

Boeing and Northrop both offered 'demo of a working payload'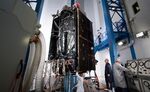 The Air Force will hold a $10 billion contest for as many as 22 new Global Positioning System satellites that's likely to pit Lockheed Martin Corp. -- which is years behind schedule on the ones it's already building -- against Boeing Co. and possibly Northrop Grumman Corp.
A request for proposals on the GPS III satellites will be issued "in the very near future," pending its review by the Pentagon's Joint Staff, Lieutenant General John Thompson, head of the Air Force Space and Missile Systems Center, told reporters Thursday.
"We wouldn't be doing a competition if we didn't think there were viable alternatives to the current Lockheed Martin system," said Thompson, who added that "there are many vendors that are interested."
While Thompson wouldn't name names, Colonel Steven Whitney, the GPS program director, told reporters that Boeing and Northrop each produced a "demo of a working payload" in a preliminary market research effort. Boeing lost the original GPS III contract to Lockheed in 2008.
Thompson said Lockheed would have a "fair competitive advantage" because it's already on contract to build the first 10 satellites. But the Defense Contract Management Agency and the Air Force have been open in criticizing a cascade of delays under Lockheed.
The management agency estimates the average delivery date for the second through eighth of Lockheed's GPS III satellites has now increased from nine months. beyond the contracted delivery date to 19 months. Subcontractor technical difficulties with failed or damaged components for the satellite's navigation payload are the main reason, according to the Pentagon agency.
Cost of Delays
The delays have resulted in a $600 million increase in cost, General John Raymond, head of the Air Force Space Command, said in an email. That brings the projected cost for the satellites to $5.4 billion.
The Global Positioning System developed by the U.S. military provides turn-by-turn directions on the smartphones of drivers and hikers as well as coordinates for bombs hitting Islamic State targets in Syria and Iraq. New GPS III satellites promise increased accuracy for navigation, a signal compatible with similar European satellites and improved security against cyberattacks.
The latest GPS III delays have been flagged to Defense Department officials who are briefing Ellen Lord, the new undersecretary for acquisition, for a meeting scheduled Nov. 6 with top Lockheed officials, including Chief Executive Officer Marillyn Hewson, according to an official who asked not to be identified because the meeting hasn't been publicly announced.
Although previously publicized problems with failing and damaged capacitors on the satellites have been resolved, the Defense Contract Management Agency believes that time lost to the production delays can't be recovered, so the agency has factored them into its calculations, agency spokesman Mark Woodbury said in an email.
Subcontractor Harris
The more recent delays have been caused by the "continued difficulty" of subcontractor Harris Corp. in producing the satellite's Mission Data Unit, Woodbury said. It's the critical processor that performs the satellite's primary mission -- creating precise civil and military timing messages used for navigation signals, according to Harris.
GPS III satellites five through eight are estimated by the contracting agency to be delivered 20 to 21 months late. The fifth one, for example, is projected to be delivered in May 2020 instead of December of this year.
Captain Christine Guthrie, an Air Force spokeswoman, said in an email that the service "is concerned with the continued challenges" the company is having and "expects Lockheed Martin to diligently work with their supplier base to correct issues as they arise."
Lockheed's 'Progress'
Lockheed spokesman Chip Eschenfelder said in an email that "we are laser-focused on delivering high-quality, mission-ready satellites to the Air Force."
Eschenfelder cited "the GPS III program's recent progress with the delivery of the third navigation payload and planned delivery of the fourth this fall and recent integration and beginning of environmental testing" for the second satellite.
In September, the Air Force declared the first GPS III satellite ready for launch and orbit next year -- four years behind schedule, Raymond said.
Raymond, the Space Command chief, said the current GPS constellation remains "robust."
"GPS III experienced numerous early programmatic challenges, particularly with payload development and delivery," he said in the email. "This is not acceptable, so we've taken numerous actions to insure the program is back on the right track."
The steps have included stronger program leadership, additional testing and "improved contractor accountability" so "we are confident we have turned the corner as we have moved to full production," Raymond said.
Lessons Learned
The lessons learned have been incorporated "as we get ready to conduct a competitive source selection," he said.
Ellen Mitchell, a spokeswoman for subcontractor Harris, said the company "is fully dedicated to GPS III's success and is committed to improving execution and delivering on a reliable production cadence. We are working closely with Lockheed Martin and the Air Force to provide the world with the most advanced navigation payload capability ever developed."
Harris delivered three of the first 10 navigation payloads "which brings new capabilities to the GPS constellation, including robust signal generation and additional signals, with increased power and accuracy," she said.
Woodbury, of the Defense Contract Management Agency, said Harris has made "significant changes" in personnel staffing and production processes. He said the subcontractor "still struggles to accurately project and meet delivery schedules," in part because of a shortage in special test equipment the company's trying to remedy.
Likewise, Lockheed "is expending significant effort to oversee Harris but results to date have been limited and not sufficiently sustained," he said.
Before it's here, it's on the Bloomberg Terminal.
LEARN MORE