What If the Bank of England Doesn't Raise Rates?
By
Swaps, linkers, credit used as shield from possible shock

Markets pricing about 90% chance of rate hike on Nov. 2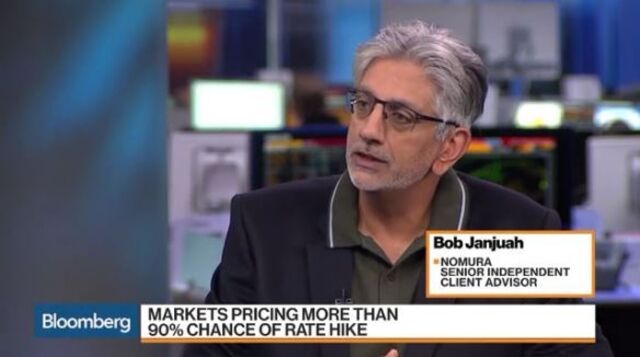 What if the Bank of England chose to not increase interest rates on Thursday?
Only eight of the 60 economists polled by Bloomberg are predicting U.K. interest rates to stay on hold at a record low 0.25 percent on Nov. 2, while market pricing sees just a 10 percent chance of this. Yet given past examples of the BOE jolting investors by changing its messaging, portfolio managers need to factor in all possibilities. Positioning in both the sterling spot and options markets signal investors have also taken cover against a hawkish outlook.
"A hawkish hike or we don't get a hike at all, that's the two sides of the coin we are trying to cover ourselves against," said Craig Inches, head of short rates and cash at Royal London Asset Management, which manages 111 billion pounds ($147 billion) in assets.
Here's how some funds are positioning for a surprise:
Royal London Asset Management:
The prospect of the BOE not hiking is "one of the reasons why we reduced our risk by half last week," says Paul Rayner, the firm's head of government bonds
Closed some short duration positions in gilts by buying two- to five-year U.K. debt, even though he says it would be "strange" if the BOE didn't signal further rate hikes after Nov. 2
Year-end 10-year gilt forecast is around 1.50-1.60%, so used the recent jump in gilt yields to reduce risk and "be in the position to react" to BOE decision
Added a bit more duration by buying index-linked assets

If the BOE doesn't hike "the currency would fall and inflation expectations would rise again, so our break-evens would actually pay off," says Inches
Vice versa, if BOE hike and sound more hawkish than markets expect it would "see break-evens do quite well"

"By closing the short in the front-end and buying break-evens is actually quite a good hedge against the bank not raising rates or coming out with a more hawkish commentary," Inches says
Allianz Global Investors GmbH
Using November MPC OIS swaps to shield against risk of a no-move surprise, says Kacper Brzezniak, a portfolio manager at Allianz, which manages EU498b euros of assets
"It is a precise way to play just the hike and nothing else" as moves in gilts and sterling will be determined by a lot of other factors, he says
While a small move would be seen on a hike, there would be "a large move in the other direction if the bank surprises the markets and chooses to hold," he says
Brzezniak said if the BOE tone was dovish but there was an "unwarranted" market reaction, such as a sterling rally or slump in gilts, he would fade the move
Fidelity International
Andrea Iannelli, fixed income investment director at Fidelity, which oversees $313.5b in assets, is in the 'one-and-done' camp when it comes to BOE policy as he sees inflation "rapidly drop" in 2018 after peaking at 3% in 4Q this year
He says Fidelity "has been more constructive on U.K. credit over the last few weeks and months" as it offers a "better proposition for investors looking for exposure to U.K. assets"
He says if the BOE is more dovish than expected it would be "supportive for the asset class overall"
Before it's here, it's on the Bloomberg Terminal.
LEARN MORE