Trump Calls Yellen 'Excellent' But Doesn't Commit to Reappointing Her
By
Every previous Fed chairman since 1979 has been reappointed

President is said to be leaning toward Jerome Powell for job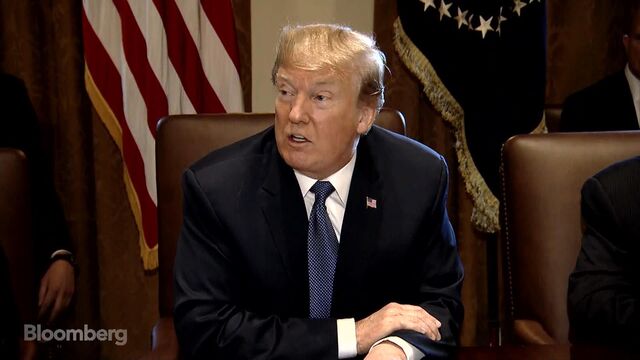 President Donald Trump said Federal Reserve Chair Janet Yellen is "excellent" but wouldn't commit to reappointing her Thursday, when he said he'll announce his choice to lead the central bank starting next year.
"I didn't say that," Trump told reporters when asked if she would be his nominee.
If Trump chooses someone to replace her, Yellen, 71, would become the first chair of the central bank not to be reappointed since 1979, when President Jimmy Carter replaced G. William Miller with Paul Volcker. Her term ends in February.
Trump is leaning toward appointing Federal Reserve Governor Jerome Powell to chair the Fed, according to three people familiar with the matter. Other people on his shortlist for the job include his top economic adviser, Gary Cohn; former Fed Governor Kevin Warsh; and Stanford University economist John Taylor.
Investors reacted favorably when Bloomberg News reported on Friday that Powell was the frontrunner for the job. The Bloomberg Dollar Spot Index dipped to session lows at the time, and yields on 10-year Treasury debt fell as much as four basis points to 2.42 percent. The U.S. stock market's benchmark S&P 500 Index extended gains.
Trump has made a small drama of the Fed chair nomination, and teased his selection in an Instagram video he posted on Friday.
"People are anxiously awaiting my decision as to who the next head of the Fed will be," Trump said in the video. "It will be a person who hopefully will do a fantastic job. And I have somebody very specific in mind."
Replacing Yellen at the top of the central bank has no recent precedent -- since Miller, every other Fed chair has been reappointed by a president from the party opposite of the man who first nominated them. And it is difficult to argue that she has been anything less than successful in the job.
Unemployment was at 4.2 percent in September, a 16-year low, and the economy is in its ninth year of expansion. Inflation and interest rates are low and Yellen is gradually backing off crisis-era policies and unwinding the Fed's $4.5 trillion balance sheet. Meanwhile, the stock market regularly reaches new highs, a phenomenon that Trump frequently observes in his tweets.
Yellen was also the first woman to lead the 100-year-old central bank, inviting further criticism of a president who's put few women in top leadership roles within his administration and who has been repeatedly accused of inappropriate sexual behavior. White House Press Secretary Sarah Huckabee Sanders has said that all such accusations are false.
Before it's here, it's on the Bloomberg Terminal.
LEARN MORE