Specter of Violence Looms Over Kenya After Two Chaotic Votes
By
Up to 80 killed in election-related clashes, rights groups say

Political standoff likely to continue, analyst Mutiga says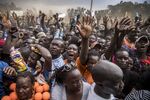 The specter of political violence lingers over Kenya after two shambolic elections within three months left the East African nation no closer to resolving a stalemate over who's its rightful leader.
While President Uhuru Kenyatta was declared the winner of both contests, his main rival Raila Odinga rejected the Aug. 8 vote as rigged and boycotted a court-ordered Oct. 26 rerun, saying the electoral agency ignored his demands to fire staff and change voting procedures. Opposition supporters have staged scores of protests, blockading roads and stoning police, who've responded with teargas and live ammunition. 
As many as 80 people have died in election-related violence since the initial vote, according to human-rights groups. Police said they've recorded only 19 killings in the unrest since Aug. 8.
The violence threatens to undermine Kenya's reputation as one of Africa's top investment destinations and a regional hub for companies such as General Electric Co. and Coca-Cola Co. The longer the standoff persists, the greater the risk of clashes escalating, according to Murithi Mutiga, an analyst with the Brussels-based International Crisis Group.
"Unfortunately Kenyan elections don't tend to end with a clear winner or clear loser, they tend to end in draws," Mutiga said by phone from Nairobi, the capital. "The one that captures or retains power has access to a vast resource of patronage. No one can afford to lose. This means this will trundle on and on."
Most of the clashes have been confined to Nairobi's slums, where Odinga has some support, and his strongholds in the west of the country.
Subsiding Violence
While political violence is likely to eventually subside, there's still a risk of sporadic clashes in Nairobi, the west and coastal regions, according to Robert Besseling, executive director of political risk advisory firm EXX Africa.
"The opposition is running out of momentum in terms of political support and funding," Besseling said. "Meanwhile, the heavy-handed reaction by security forces has discouraged many" from taking to the streets, he said.
Controversy has marred five of the six elections held in Kenya since the advent of multiparty democracy in 1991, and peaked after a disputed 2007 vote that triggered two months of ethnic conflict in which at least 1,100 people died and 350,000 were forced to flee their homes. Many clashes were between members of the Kikuyu and Kalenjin communities, two of Kenya's biggest groups, whose leaders have since united under the banner of the ruling Jubilee Party. That crisis ceased with the formation of a coalition government and a prime minister post. Odinga has said he's not interested in a similar solution this time round.
"This is very different from 2007, when in that election cycle we saw almost immediate and seemingly spontaneous killings between rival ethnic militias on a very shocking scale," Mutiga said. "We haven't seen anything close to that. There is not anywhere near the level of the animosity and tension that we had. Certainly the pact between the elites of the Kikuyu and the Kalenjin has helped to limit violence."
Ethnic Tensions
This year's contest has witnessed some ethnic tensions, with members of rival groups looting and burning each others' stores in Nairobi.
Odinga's National Super Alliance also accused the government and ruling party of "ethnically profiling" the Luo people to deny them their political rights, after violence forced the cancellation of the election in 25 western constituencies where more than 1.6 million people voters were registered. William Ruto, Kenyatta's deputy, has in turn accused the opposition of unleashing its own militia to disrupt a vote it knew it couldn't win.
Ultimately, Kenya's political leaders will determine whether more violence can be averted, according to Peter Alingo, a consultant to the Institute for Security Studies.
"This is a country that is extremely divided and moving forward things will be extremely difficult unless we have some sense of genuine dialog," he said by phone from Nairobi. "The next one or two weeks will be critical. One way or the other, a solution will be found. The grandstanding will simmer down and they will sit down and talk. "
— With assistance by Samuel Gebre, and Felix Njini
Before it's here, it's on the Bloomberg Terminal.
LEARN MORE