One of the Most High-Profile Initial Coin Offerings Has Crashed 50%
By
Bancor has lost more than half of value since June offering

Developers question usefulness of market-making token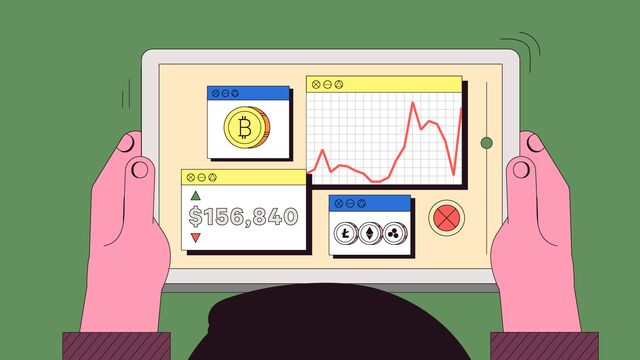 Bancor, one of the most successful initial coin offerings in the short history of digital tokens, is proving to be a dud for investors.
After raising $153 million in a matter of hours in June, the Tel Aviv, Israel-based startup -- whose market maker-like application aims to facilitate trading in other digital coins -- has seen the price of its token decline 56 percent, one of the worst performances among the 10 largest crowd-funding sales.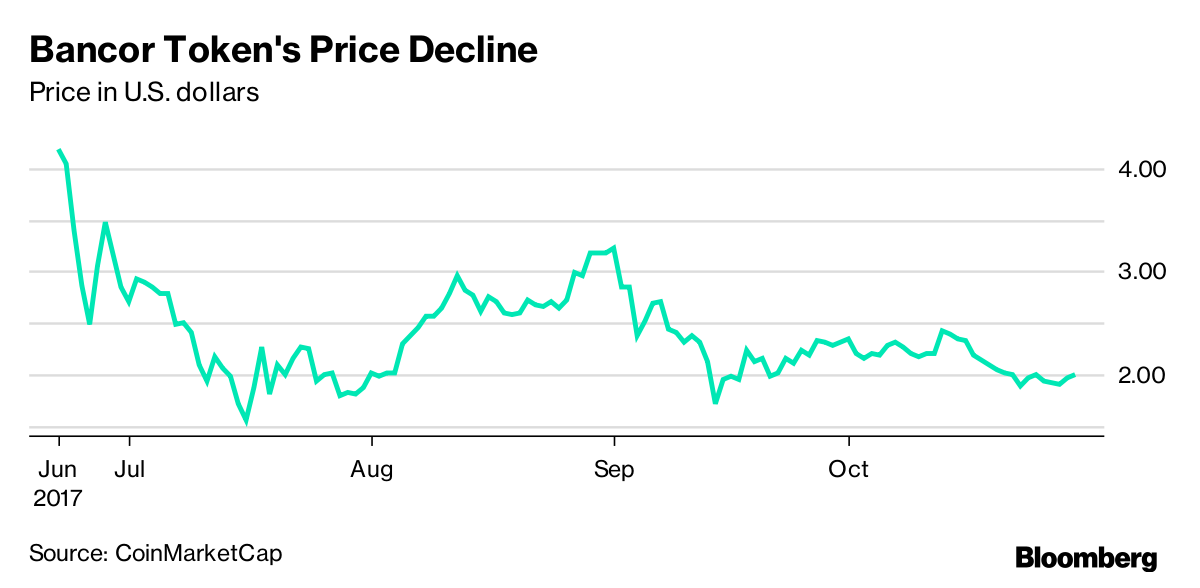 Around the time of the ICO, some of the burgeoning sector's better known developers such as Cornell University's Emin Gun Sirer started raising questions about the application. Bancor's formula is less efficient than simply making the market manually, Sirer says. And they say the technology could also be vulnerable to front running, where people make money off of the visibility of others' transactions.
"They have one idea that by itself I don't think is sufficient," Sirer, an associate professor and co-director of the Initiative for Cryptocurrencies and Smart Contracts at Cornell, said in a phone interview from Ithaca, New York. Sirer is an adviser for Tezos, which raised $232 million through an ICO in July.
Backed by billionaire venture capitalist Tim Draper, Bancor is the fifth-largest ICO by amount raised by startups, which totals more than $3 billion this year. "All of these projects are in development," Draper said in an email. "Wait two years, and I believe we will all be blown away by what these people can do for the world."
Bancor protocol enables anyone to create a new type of digital coin called a Smart Token, which can hold and trade other tokens. This allows the Smart Token contract to serve as its own market maker, automatically providing so-called price discovery, and liquidity to other coins. So effectively, Bancor has created an exchange that will automatically price and trade any cryptocurrency that wants to list with it, as well as a token. The company says it will always have enough liquidity to make the market because the currencies have to build a reserve in Bancor tokens.
"This actually guarantees liquidity," Eyal Hertzog, co-founder of Bancor, said in a phone interview. "You are not at the mercy of for profit market makers."
QuickTake: What's an initial coin offering?
But Sirer expects that Bancor will always trail the market when it comes to price discovery and that will erode the reserves established for each coin. Bancor, which posted an extensive rebuttal of Sirer's suppositions, says its product is more efficient than making the market manually.
"I'm a big fan of what they're building and think they are the most qualified team around to do it," Brock Pierce, co-founder of Blockchain Capital, an investor in Bancor's tokens, said in an email. "Not everyone understands it."
The project says its technology is already in demand, with around 30 tokens using or planning to use its network.
"Bancor is creating a better user experience," said Simon Yu, chief executive of Seattle-based StormX, which plans to use the technology. "People don't necessarily understand exchanges and other services. They'll be able to engage with our tokens much more easily."
Kyle Samani, managing partner at Austin, Texas-based hedge fund Multicoin Capital, said the functionality Bancor provides isn't needed. Tokens that can't list on exchanges may simply not be good enough, he said.
"For assets that actually have value, there will be a market," Samani said. "For assets that people don't want to buy... why should there be some pity-based programmatic market maker to provide liquidity? My inner capitalist is just dumbfounded by the concept of Bancor."
Read more on ICOs in use following the sales
Samani and Sirer also question why people need to buy Bancor coins to use the market maker instead of simply using ether, the second most commonly used digital currency, since the application runs on the ethereum blockchain. Sirer says the coin was designed for "creating a money flow for the people behind Bancor." Bancor said in its rebuttal that the tokens would be a better medium of exchange because they offer a number of advantages, such as serving as a more stable currency.
If Bancor's token is not necessary to the application, the company risks having them classified as securities and increased regulatory scrutiny. Companies that raise money through the sale of digital assets must adhere to federal securities laws, the U.S. Securities and Exchange Commission said in July.
Bancor Chief Executive Officer Guy Benartzi said Sirer is making his claims because he is advising another company. Tezos, which claims to be building a super-secure blockchain, has had its own issues, such as management infighting, which has slowed development.
"What they are saying is analogous to claiming that someone cannot critique a particular book, because they advise a paper company -- nonsensical, and betrays an unscientific approach to the problem that I find disconcerting," Sirer said.
— With assistance by Jennifer Surane
Before it's here, it's on the Bloomberg Terminal.
LEARN MORE