Fallon Quits as U.K. Defense Chief After Harassment Claims
By , , and
First cabinet minister to go as scandal swirls around Commons

Defence secretary says he fell short of standards expected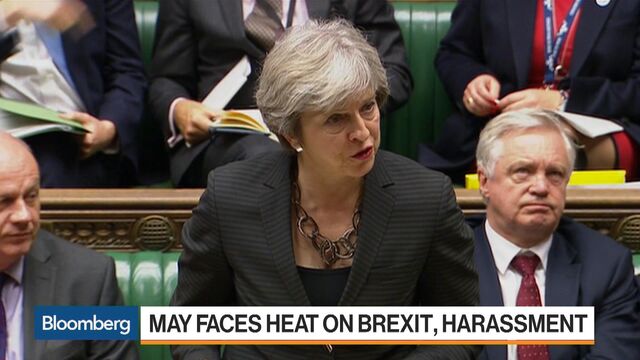 U.K. Defence Secretary Michael Fallon quit his post, citing allegations about his past conduct and becoming the first cabinet casualty of a sexual-harassment scandal that's sweeping Prime Minister Theresa May's Conservative Party as well as the Labour opposition.
"I accept that in the past I have fallen below the high standards that we require of the armed forces which I have the privilege to represent," Fallon said in a letter to May released by her office late Wednesday. He told the BBC in an interview that "what might have been acceptable 10, 15 years ago is clearly not acceptable now."

The resignation poses a new dilemma for May, who loses one of her safest pairs of hands.
"The key question is whether Fallon is the first of many," said Tim Bale, who teaches politics at Queen Mary University of London. "The PM might be able to cope with losing a couple more colleagues -- especially if they're not high-profile cabinet ministers. But if a trickle becomes a flood, and if there's any sense in which she knew about some of this stuff but didn't act on it, that's when things could get really tricky for Mrs. May."
Fallon, 65, was a veteran defender of Tory policies, deployed as an attack dog by both May and her predecessor, David Cameron. He had been seen as a potential caretaker prime minister if May fell. Instead, he has become the latest problem to face her troubled government, which lost its parliamentary majority in June's elections and is riven by divisions over Brexit policy.
Fallon is the first minister to lose his job in the scandal. Around 40 Tory lawmakers have been named on a list being circulated at Westminster detailing allegations over sexual activities by lawmakers ranging from inappropriate behavior to affairs and fetishes. Two junior ministers, Dominic Raab and Rory Stewart, on Wednesday denied the claims made against them in the list.
Earlier in the week, Fallon said he had apologized at the time for repeatedly touching the knee of a journalist, Julia Hartley-Brewer, at a dinner 15 years ago and they had put the incident behind them. Hartley-Brewer, who said she had threatened to "punch him in the face" if he did it again, also downplayed the incident. On Wednesday, she told Sky News television that "it's mad and absurd and crazy" if his resignation was about that incident. "I don't think he should resign based on touching my knee," she said.
Fallon's letter suggested there may be more allegations. While he's already acknowledged the Hartley-Brewer incident, his letter referred to "some" claims about his "previous conduct."
Speculation may now mount about the fate of First Secretary of State Damian Green, May's deputy, who is being investigated over allegations of inappropriate behavior, which he denies. In addition, May has ordered an inquiry into the behavior of Trade Minister Mark Garnier, who has admitted asking an assistant to buy sex toys for him and using a sexist term to her.
Replacement Thursday
May's office said it doesn't expect any more resignations imminently and that a replacement for Fallon will be announced on Thursday. Junior Defence Minister Tobias Ellwood is one candidate for promotion; former Armed Forces Minister Penny Mordaunt, now at the Department for Work & Pensions, is another.
The defence secretary's job is one of the most important in the U.K. cabinet pecking order, ranking just behind the traditional great offices of state -- chancellor of the exchequer, foreign secretary and home secretary.
Fallon has been a member of Parliament since 1983, apart from a five-year break in the 1990s. Before being promoted to defense, he was a junior minister in the energy and business departments and a deputy Tory party chairman. He was given a knighthood, enabling him to call himself Sir Michael, in Cameron's resignation honors list last year.
"Theresa May's cabinet is falling apart like a cheap piece of flat-pack furniture," Alistair Carmichael from the opposition Liberal Democrat party said in a statement. "Her government is in meltdown. She has to change or leave. There are no other options."
Brexit Studies
May's troubles were compounded Wednesday when the House of Commons passed a motion calling on her government to release Brexit impact studies on 58 sectors of the British economy, something it's been resisting. The Brexit department said it would "reflect on the implications of the vote" while arguing that "ministers also have a clear obligation not to disclose information when doing so would not be in the public interest."
Labour has also been caught up in the sex-harassment furor. Labour leader Jeremy Corbyn last week suspended the membership of one of his lawmakers, Jared O'Mara, over alleged sexist and homophobic comments. On Tuesday, an activist said she'd been been raped at a party event in 2011 by a senior figure and then discouraged from reporting it by a party staffer.
May said on Sunday that sexual harassment among top politicians can't be tolerated any longer and proposed a new disciplinary regime to deal with unwanted sexual or sexist behavior by lawmakers toward aides and colleagues. Leader of the House of Commons Andrea Leadsom told lawmakers the following day that Parliament must take action "in days.''
Earlier on Wednesday, May wrote to the leaders of six other parties inviting them to a meeting on Monday afternoon to discuss a common approach to tackling sexual harassment, so that aides don't face different grievance procedures depending on what party they work for. "There needs to be a common, transparent, independent grievance procedure for all those working in Parliament," the premier wrote.
— With assistance by Svenja O'Donnell
Before it's here, it's on the Bloomberg Terminal.
LEARN MORE