Bump Stocks Are Back, One Month After Las Vegas Gun Massacre
The appendage that helped mow down dozens and wound hundreds at a country music concert is for sale again.
By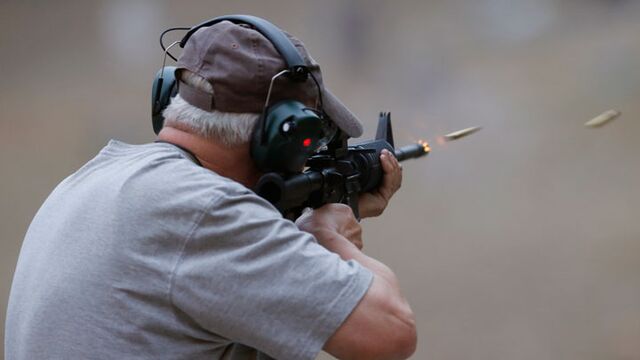 One month after a mass shooting in Las Vegas left almost 60 dead and more than 500 injured, a device similar to one used in the attack is back on the market, despite calls in Washington for a ban in the massacre's aftermath. "Bump-fire stocks," which allow semi-automatic weapons to be fired as if they were fully automatic, became a household name after the U.S. Bureau of Alcohol, Tobacco, Firearms, and Explosives said a dozen such devices were found in the room of Stephen Craig Paddock at the Mandalay Bay Resort. He allegedly targeted the Route 91 Harvest concert, shooting wildly from his 32nd floor room on the night of Oct .1. 
Jeremiah Cottle, founder of Texas-based Slide Fire Solutions Inc., owns a slew of patents related to bump stocks and claims to have invented the device as early as 2005. A semi-automatic weapon releases one round of ammunition per trigger pull. A bump-fire stock expedites the process, in part by using the recoil of a weapon to generate continuous fire.

Cottle has repeatedly sued competing bump stock manufactures, accusing them of stealing Slide Fire's patented designs. After the Las Vegas shooting, Slide Fire Solutions was inundated with attention, both positive and negative, though authorities never linked any specific manufacturer to the devices found in Paddock's room. It often happens that mass shootings inspire fears among gun enthusiasts that then drive up sales—and, by extension, the share prices of gun makers. In the case of Slide Fire, the mass killing in Las Vegas drove so many buyers to the company's website that it crashed, while online bidding for second-hand bump stocks or knockoffs climbed rapidly. 
On GunBroker.com, a firearms auction platform, the SSAR-15 OGR model was bid up to over three times its retail value in the days after the Las Vegas shooting. Slide Fire said it will be selling only two models, the SSAR-15 OGR and the SSAR-15 SBS.
"Need to get me a few before outlawed with the sad news in Vegas," wrote one Facebook user on the company's page in the hours following the attack.
Shortly after the shootings, Senator Dianne Feinstein, a California Democrat, introduced a bill that would effectively eliminate bump stocks by making them illegal to sell or manufacture. 
"This is the least we should do in the wake of the deadliest mass shooting in U.S. history," she said prior to the bill's introduction. "It should be our highest priority."
In a marketing email sent late Tuesday evening, Slide Fire announced it would once again make its bump stocks available for sale, albeit in limited quantities. "We have not yet reached adequate inventory levels to offer sales of all products," the company said. As it reenters the retail market place, however, it faces a new legal landscape: Three attendees of the concert have filed a proposed class-action lawsuit against Slide Fire and other bump stock manufacturers, seeking unspecified damages, as well as funds to pay for the victims' counseling and treatment for emotional distress.
Before it's here, it's on the Bloomberg Terminal.
LEARN MORE