Alibaba, Tencent Pressured to Live Up to $450 Billion Rally
By
The two companies have outperformed their U.S. peers this year

Meeting and beating expectations will only get harder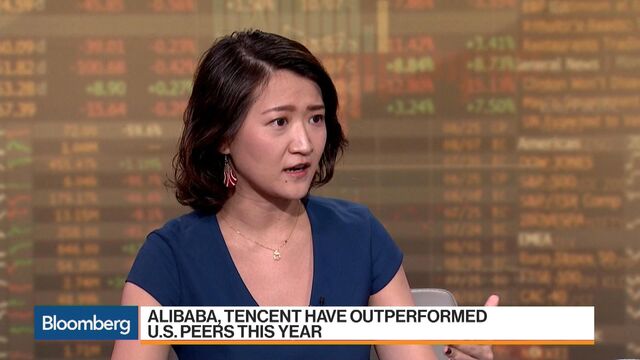 It's getting tougher for China's technology giants to live up to expectations.
After Alibaba Group Holding Ltd. and Tencent Holdings Ltd. added more than $450 billion of combined market value this year, investors are counting on the pair to at least match projections for quarterly revenue growth of more than 50 percent, and sustain a similarly blistering pace in 2018. The first test will come Thursday with Alibaba's results.
The market has reasons to believe expansion can continue. Heavy spending in the cloud, finance and artificial intelligence could pay out in coming years. Alibaba and Tencent -- largely confined for now to an increasingly saturated home market -- are already beginning to take steps toward a more global business. Their financial muscle also helps them withstand new competition from the likes of Toutiao and retain pole position in Chinese e-commerce, gaming and social media.
All that props up a premium they enjoy over the so-called FANG quartet of Facebook Inc., Amazon.com Inc., Netflix Inc. and Alphabet Inc.'s Google.
"The rally is sustainable," said Billy Leung, a Hong Kong-based analyst with Haitong International Securities Co. "Tencent is more affected by China liquidity, it's a rarity stock because there aren't that many internet stocks in Hong Kong. Alibaba is a reflection of the China story: China retail and internet."
Investors can better gauge if their rich valuations are deserved after the quarterly numbers, with Tencent's due on Nov. 15. Alibaba's beaten revenue estimates for two years straight, whereas Tencent's only missed one quarter -- a big reason why Alibaba is trading at 38 times estimated earnings and Tencent at 46 times.
That compares with a multiple of 34 times earnings for Facebook and 32 times for Alphabet.
Investors are also set to pay particular attention to a string of investments intended to drive future growth but are compressing profitability: Tencent's gross margins have slid nine straight quarters, while Alibaba has managed to grow that metric just once since 2015.
Alibaba is committing $15 billion over five years to expanding its logistics network -- preparation for a future in which it handles a billion packages a day. It's spending the same amount over three years on research into artificial intelligence and quantum computing. Billionaire co-founder Jack Ma continues to pursue his ambition of revamping traditional retail. And by taking control of Southeast Asian online shop Lazada Group SA, they've kicked off a global expansion that could eventually pit it against Amazon.
For now however, Alibaba's e-commerce margins will soften as it spends to gain transaction share at home, according to Sanford C. Bernstein analysts Bill Liu and Bhavtosh Vajpayee. The company and its main competitor JD.com Inc. are locked in a contest to provide six-hour deliveries across China's largest cities. By buying out its logistics partner Cainiao, Alibaba plans to expand on a same-day delivery promise that covers 31 cities.
In Tencent's case, Honour of Kings may prove a tough act to follow. The company is pushing back the North American rollout of an adapted version called Arena of Valor from November to next year. That's a setback to Tencent's plans to replicate its success at home, where it gets the bulk of its 229 million registered users, according to Shenzhen-based researcher Jiguang. Mobile gaming revenue is expected to jump 62 percent in the September quarter compared with last year, according to estimates by Richard Ko, an analyst at China Merchants Securities Co.
But Tencent is already pursuing a second act. It's plowing money into music, e-books and video streaming -- the content it needs to keep users hooked on its WeChat social media and messaging service. The idea is to delve further beyond gaming and grow into an advertising behemoth akin to Alibaba, Google and Facebook.
"People treat them more as a leading indicator for the economy," said Steven Zhu, a Shanghai-based analyst at consultancy Pacific Epoch. "Except they probably are even better bets than traditional sectors."
Before it's here, it's on the Bloomberg Terminal.
LEARN MORE