Why Google and Amazon Aren't in the Dow
By
High-priced shares would distort Dow Jones Industrial Average

DowDuPont breakup may be the occasion to reconsider members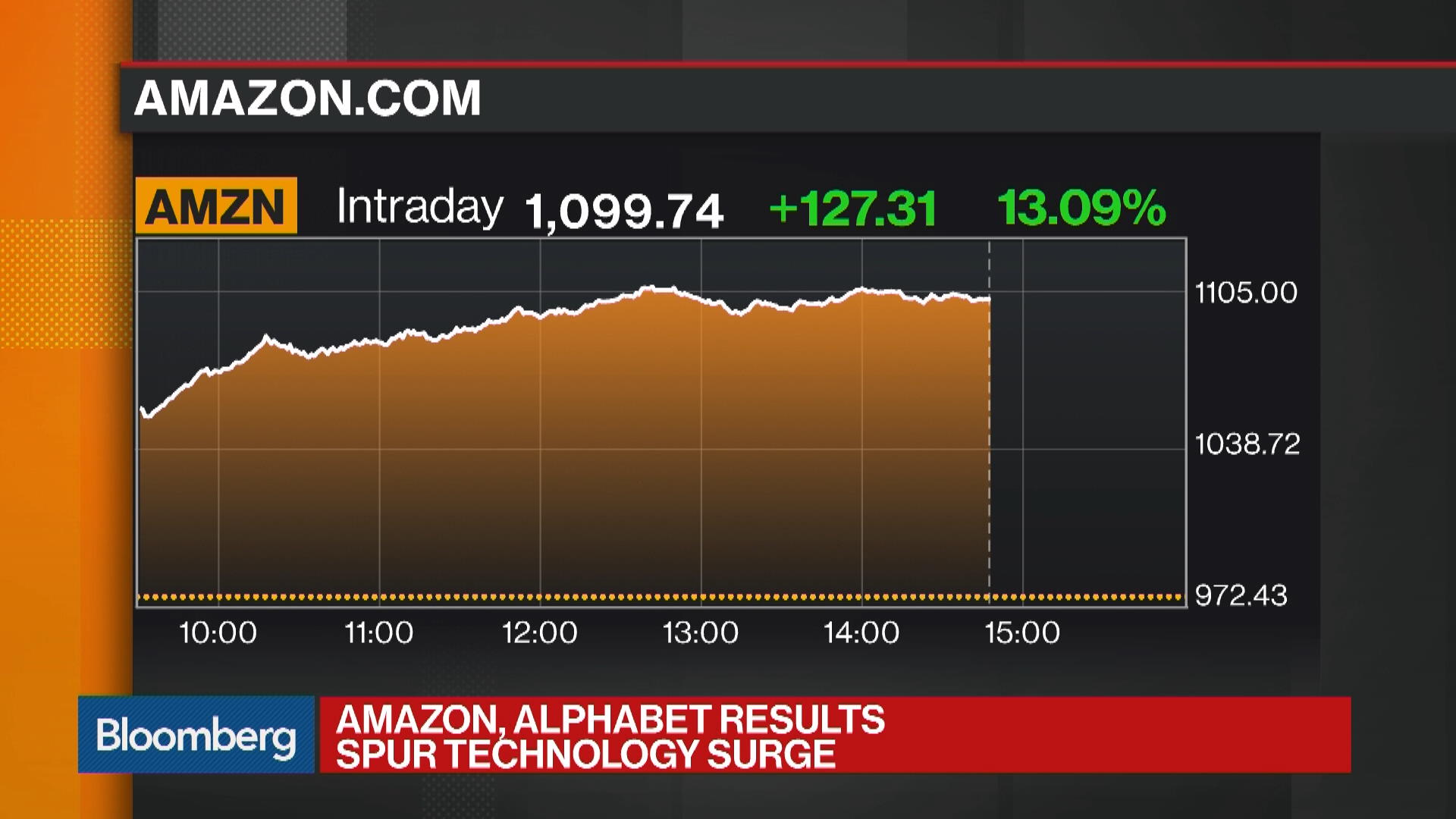 What's more important, being in the Dow Jones Industrial Average, or showing the world you're too cool for conventions like splitting your shares?
It's a question that many are asking as the century-old benchmark tries to stay relevant in today's tech-driven economy.
At the center of the debate are Google and Amazon, which just soared past $1,000 a share after strong earnings. Although no one doubts the internet giants would be near the top of any list of blue-chip companies, the sky-high shares would break the Dow, which weighs companies by price rather than market value. If they went in now and replaced the smallest members, the two stocks would account for 40 percent of the index.

Part of the Dow's problem, at least among Silicon Valley acolytes, is that splitting stock is seen as downright old-fashioned, a fuddy-duddy relic of the 20th century. Driven by everything from index funds to peer pressure, only about 10 companies in the S&P 500 have split their stock annually since 2009, down from around 70 in the 1990s.
"They want to portray themselves as cutting edge, and the Dow industrial just is not that," said Jerry Braakman, chief investment officer of First American Trust in Santa Ana, California, where the firm oversees about $1.3 billion. "They'd rather have the cachet of high stock prices being indicative of high-flying tech stocks."
It's a divergence of old and new in equities, pitting one ancient emblem of market status, Dow membership, against a contemporary one, a four-digit share price.
Three years ago, the Dow's overseers won a major battle when Apple Inc. carried out a 7-to-1 stock split and brought its shares in line with other members. Since then, the prejudice against splits has grown. There's only been five in the S&P 500 since January, the fewest in 25 years.

The lack of splits is usually chalked up to the expanding role of professional investors: if index funds don't care what a share costs, why should a company? Another factor is the optics of a soaring share price. A thousand-dollar stock has become a badge of success after firms like Berkshire Hathaway and Priceline shunned splits.
A slew of benefits come with equities trading in the three and four digits. According to a study published by Wolfe Research in August, high-priced stocks have lower volatility, less short interest and lower transaction costs.
But the reluctance to split is starving the Dow of some of the most popular companies. It's something the benchmark's overseers have mentioned in the past.
Firms like Google "are huge companies, very big and very well known, and there's no question that they're very important to the U.S. and the global economy," said David Blitzer, managing director and chairman of S&P Dow Jones Indices index committee, in 2013. "The prices of their stocks are so high that putting Google in would completely distort the index and it wouldn't work."
In a telephone interview Monday, Blitzer wouldn't comment on whether the refusal to split is harming the Dow. "Whether a company splits their stock or not is a decision up to the company. It's not up to us," he said. "To my knowledge, we've never suggested that anybody split their stock or not split their stock."
Among the five largest publicly traded companies by value, three are absent from the Dow and all involve the internet, an industry without direct representation beyond Cisco Systems. Along with Google and Amazon, Facebook also isn't a member. Shares of the social media company trade at $180, higher than the median $100 for current Dow constituents.
Even among existing Dow companies, a gap is quietly opening between the highest and lowest-priced stocks. Up 70 percent this year to $259, Boeing shares now trade at a price that's almost 13 times GE's. That's the widest since 2012, the year before Hewlett-Packard, the then-smallest member, was ousted.  
"What if one of the current components just keep going up and you have Apple or Boeing at $1,000 in several years?" asked Richard Moroney, the editor of the Dow Theory Forecasts newsletter and chief investment officer at Horizon Investment Services in Hammond, Indiana.
Representatives from Facebook, Google and Amazon all declined to comment.
The 30-stock gauge is unique in that its members are chosen by a committee instead of an objective, rules-based process. According to the index manager's website, it favors a company that "has an excellent reputation, demonstrates sustained growth and is of interest to a large number of investors." It also seeks to maintain "adequate" sector representation.
At the same time, no company is a lock for Dow inclusion. Google parent Alphabet, for instance, has a type of multi-class share structure that has troubled index compilers, including the Dow's. Priced for extreme growth, Amazon valuation defies conventional tools that use current earnings and book value.
Here are some stocks that may have conceivably overstayed their welcome in the average based on share prices, company or industry dynamics.
| | | |
| --- | --- | --- |
| Company  | Stock Price | Reason for Potential Deletion |
| DowDuPont  | $72 | Spinoff |
| GE  | $20 | Lowest priced and the only Dow stock that's down in both 1-year, 3-year timeframes |
| Nike | $55 | Less exposure to consumer spending than Amazon; profit falls amid competition |
| AmEx | $95 | Market value trails rival Visa, also a Dow member, and online payment company PayPal   |
With the Dow beating the S&P 500 by about 3 percentage points this year, the pressure for changes is less urgent. But the question remains: is the privilege of Dow membership worth splitting the stock? And can the Dow go without the fastest growing industries?
"My sense is they'll probably muddle along and pick a stock that works, like Facebook," Moroney said. "Even though they might have preferred to go with Google, they won't just because it's too highly priced."
— With assistance by Mark Bergen, and Spencer Soper
Before it's here, it's on the Bloomberg Terminal.
LEARN MORE