`Hamilton' Ticket Ponzi Scheme Leads to Second Guilty Plea
By
Joseph Meli admits guilt to one count of securities fraud

Investors were promised 10 percent returns on their money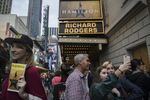 A concert promoter admitted to his role in fleecing investors of more than $95 million in a Ponzi scheme where investors were told their funds were going to buy and resell blocks of tickets to popular concerts and musicals including the smash Broadway hit "Hamilton."
Joseph Meli, 43, pleaded guilty Tuesday to one count of securities fraud in the ruse, which allegedly defrauded about 130 investors from 2015 to this year, prosecutors in New York said. Meli and another man, Steven Simmons, 48, of Wilton, Connecticut, were charged in January. Simmons pleaded guilty Monday to one count of conspiracy.
As part of a plea agreement, prosecutors and Meli agreed that federal guidelines call for a prison term of 78 to 97 months and a fine of as much as $5 million, although his attorneys can seek a lighter punishment when he is sentenced Jan. 31. Prosecutors agreed to drop charges that Meli defrauded investors in the hedge fund Sentinel Growth Fund Management.
Daniel Fetterman, a lawyer for Meli, said in a statement that his client is "pleased" that the U.S. Attorney's office agreed to dismiss the Sentinel charges, and that he "looks forward to putting the case involving his ticket-reselling business behind him."
Springsteen Tickets Hit $10,000, and Wall Street Gets Scalped
Meli allegedly told victims the money would go toward block purchases of tickets to shows including "Hamilton" and promised an investment return of 10 percent within eight months, prosecutors said. Instead, he used the money for personal expenses, including payments for a $3 million house in East Hampton, a 2017 Porsche convertible, watches and jewelry, and to repay previous investors in the scheme and an unrelated hedge fund.
The plea comes a little more than a week after Meli's attorneys sought to suppress evidence in the case, alleging that the government sent its informant, Sentinel founder Mark Varacchi, to lure Meli away from his attorneys' office and record him as part of a sting operation. Varacchi pleaded guilty in February and is cooperating with prosecutors.
The operation resulted in a recording that contains a "series of rambling, contradictory statements" that the government has pointed to as evidence of his guilt, his lawyers said in a court filing.
The concert promoter has also been sued by the Securities and Exchange Commission, who accused him and sports radio shock jock Craig Carton of ripping off investors of millions of dollars in an alleged scam that involved buying and selling tickets to concerts that included Adele, Katy Perry and Justin Bieber. Carton was charged in the scheme last month, and his lawyer said he was "deceived, manipulated and used" by others.
The case is U.S. v. Simmons, 17-cr-00127, U.S. District Court, Southern District of New York (Manhattan.)
Before it's here, it's on the Bloomberg Terminal.
LEARN MORE