Russia Baggage to Follow Republicans Into 2018 Elections
By
Indictment, plea deal of Trump camp officials cloud election

Democrats pounce on news to say they will protect Mueller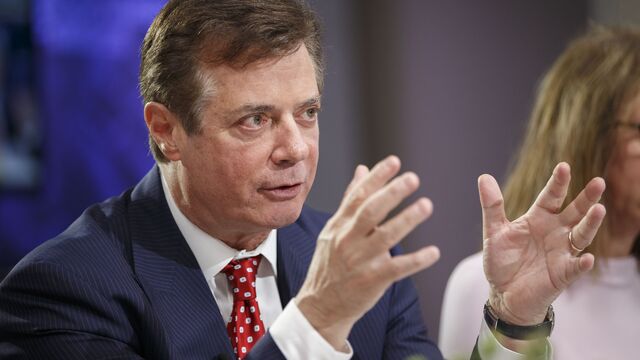 The indictment of two of President Donald Trump's former campaign officials carries bad news for Republicans in Congress: now they know that investigations of Russian election meddling won't end before their own 2018 re-election campaigns kick into gear.
Perhaps as troubling for Republicans is the news that a former Trump campaign foreign policy adviser, George Papadopoulos, pleaded guilty to lying to the FBI and agreed to cooperate with Special Counsel Robert Mueller's probe into possible collusion between the campaign and Russians who sought to influence the election. 
Republicans who will run in 2018 to keep control of the House and Senate must brace for continued questions -- including what may yet be uncovered about any Russian help given to the GOP in the campaign for the White House.
Even if Mueller's findings as special counsel were to end with the finances of former Trump campaign manager Paul Manafort and his onetime business partner Rick Gates, there is little chance of a quick resolution through plea negotiations, much less in trials, given the 12 counts against them.
The Senate Intelligence Committee is also likely to continue its separate investigation into next year too, said panel member Susan Collins, a Maine Republican. The committee may reach conclusions soon on whether the Russian meddling occurred and might issue an interim report on that question, she said, but the issue of possible collusion will take longer.
QuickTake Q&A: Your Guide to Understanding the Trump-Russia Saga
"I don't see the whole thing as being finished by the end of the year," she said during a roundtable discussion with Bloomberg News reporters and editors Monday. On the collusion question, "we have not yet gotten to a point where we're likely to finish by the end of the year on that aspect."
The committee's chairman, North Carolina Republican Richard Burr, has repeatedly told reporters he wants to finish the committee's investigation by the end of the year, though he has said he wouldn't cut off the probe until it's done. On Tuesday, he said Mueller's decision to release charging documents limits the committee's work.
"Does it make our job tougher? Only in the fact that there may be some information that we could get from Manafort or Gates that we're not going to be able to get now because of the indictment," Burr said. "We had assumed for quite a while that at some point they would be taken off the deck for us."
The Papadopoulos deal signals that Mueller is looking at Trump campaign officials and possibly people now serving in the White House.
Unsealed court documents show that Papadopoulos pleaded guilty Oct. 5 to lying to federal agents about his foreign contacts. He is described as having had exchanges with a Trump "campaign supervisor" about his contacts with Russians who claimed to have "dirt" and emails about Hillary Clinton. These contacts came months before a June 2016 meeting at Trump Tower that Manafort, Donald Trump Jr. and the president's son-in-law and senior adviser, Jared Kushner, held with Russians who were promising similar information about Clinton.
Representative Adam Schiff, the top Democrat on the House Intelligence Committee, said in a statement, "It will be important for Congress ultimately to hear from" Manafort, Gates and Papadopoulos. The California lawmaker said the contact described between Papadopoulos and individual Russians "appears to be a classic Russian intelligence operation."
Mueller's Independence
Schiff said the plea agreement also establishes that at the time of the Trump Tower meeting, "the Trump campaign already had been informed that the Russians were in possession of the Clinton emails -- something that might further explain both why the high level Trump campaign officials took the meeting and what they hoped to obtain."
Schiff and other Democrats said that Congress must make clear that it will protect Mueller's independence, that lawmakers have no intention of shutting down their own investigations, and that any pardon of Trump associates would be unacceptable.
"The ultimate test of this Republican Party would be, if Trump should interfere, how they react," Senate Minority Leader Chuck Schumer of New York said Tuesday.
Democratic campaign strategists also signaled that the developments will be a backdrop for the 2018 elections.
"We now know that the Trump team was approached multiple times with information about the Russian campaign to damage Hillary Clinton, and in each case, they appear to have welcomed the help," said Democratic National Committee deputy communications director Adrienne Watson in a statement. "Trump can no longer claim there is no evidence of collusion between his campaign and Russia."
Bigger Concern
Susan Del Percio, a New York-based Republican strategist and political commentator, said in an interview that it's too early to tell whether Republican candidates should panic about the effects on the 2018 election. A bigger concern to them, for now, remains how to follow through on their promises to voters, she said.
"If we don't pass tax reform that will have the greatest impact for Republicans in 2018," said Representative Dennis Ross about whether he and other Republicans should be worried. Ross of Florida was one of Trump's earliest campaign supporters in Congress.
House Speaker Paul Ryan, one of the leaders responsible for getting legislation enacted, said, "I really don't have anything to add other than nothing's going to derail what we're working on in Congress," when asked on a Wisconsin radio program Monday about the Manafort development and its impact on legislative matters.
House Intelligence Committee Chairman Devin Nunes of California had no comment on the indictments, a spokesman said.
Some other Republicans are seeking to shift attention from the continuing Russia investigations. House Judiciary Chairman Bob Goodlatte of Virginia and House Oversight Chairman Trey Gowdy of South Carolina said earlier this month they're opening a joint investigation into the FBI's decisions in its investigation of Clinton's emails last year and the decision not to charge her. Republicans also have opened a new investigation into an Obama-era uranium deal.
— With assistance by Laura Litvan, Steven T. Dennis, and Arit John
Before it's here, it's on the Bloomberg Terminal.
LEARN MORE