Trump Lawyer Ty Cobb Says Mueller Moves Won't Change His Strategy
By
President's lawyer says he will cooperate with special counsel

Some Trump allies want president's attorneys to push back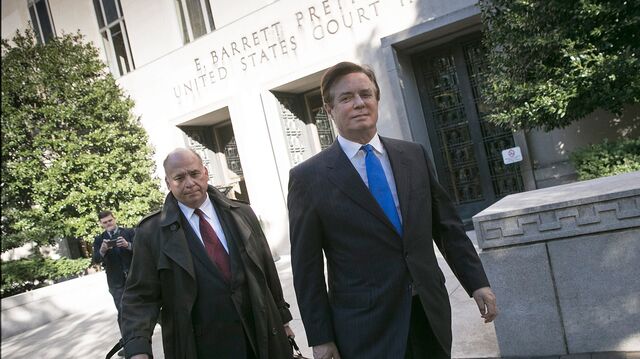 Donald Trump's lawyer said Tuesday that his legal strategy remains unchanged in the wake of Special Counsel Robert Mueller's moves to indict the president's former campaign manager and secure a plea deal from another former campaign aide.
"Nothing about recent events or any of these actions of the special counsel has altered the president's determination to support the special counsel and fully cooperate and that is where we are," Ty Cobb, the White House lawyer tasked with responding to the Russia probe, said in a telephone interview.
Paul Manafort, the campaign manager, and onetime business partner Rick Gates, pleaded not guilty Monday to charges of money laundering, lying to the FBI and conspiracy. Separately, Mueller's team disclosed that George Papadopoulos, a one-time foreign policy adviser, secretly pleaded guilty weeks ago and has been cooperating with Mueller's probe into Russia's interference in the 2016 election.
Mueller's steps come after a months-long probe into possible crimes, including obstruction of justice by Trump and other associates, and suggest that the former FBI director is pursuing whether anyone colluded with Russians during the election.
Trump's former strategist Steve Bannon thinks White House lawyers aren't aggressively confronting Mueller and that the president should try to push his allies in Congress to raise concerns about the scope of Mueller's investigation, a person close to Bannon said.
But Cobb pushed back on the idea of taking on Mueller.
"The president welcomes opinions of all his friends, but the legal strategy is set and the president is committed to continued cooperation with Special Counsel Mueller and the White House counsel," Cobb said.
Within the White House, Muller's indictments are being viewed as a positive for Trump because Manafort's charges were unrelated to Russia and Papadopoulos only pleaded guilty to making false statements, said a person familiar with the matter.
But taken together, the documents released Monday reveal that Mueller's team has access to tax documents and international financial records going back years, as well as internal emails and other information related to those who worked on Trump's presidential campaign.
"It's a shot across the bow," said Jeffrey Cramer, a former federal prosecutor who's now managing director of consulting firm Berkeley Research Group LLC. 
— With assistance by Chris Strohm, and Kevin Cirilli
Before it's here, it's on the Bloomberg Terminal.
LEARN MORE