China to Move Closer to Starting National Carbon Market
Bloomberg News
NDRC submits plan to State Council to begin trading market

Plan could be announced as early as next week at Bonn talks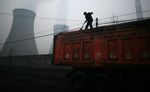 Shanghai Zhixin Electric Co. surged in Shanghai, leading gains in carbon-related stocks after China's top economic planning agency was said to submit a plan to the State Council to start a national trading system.
Shanghai Zhixin, a Chinese electric-equipment maker and carbon-asset management company, jumped by the daily limit of 10 percent, the most in more than two years, to 7.27 yuan. Centre Testing International Group Co., which provides auditing services on carbon emissions, jumped as much as 5.3 percent in Shenzhen. Datang Huayin Electric Power Co., a shareholder of Shenzhen-based China Emissions Exchange, a local carbon-trading platform, gained as much as 2.6 percent in Shanghai.
Investors are betting on a boost to Shanghai Zhixin's business from the market, Zhang Haidong, a Jinkuang Investment Management fund manager, said in a telephone interview. Zhixin has a unit that owns carbon-emission rights, according to its first-half report. China's carbon-emission quota market is huge and should provide long-term support to earnings of related firms, Zhang said.
The proposal by the National Development and Reform Commission needs approval from the council, China's cabinet, according to people familiar with the matter, who asked not to be identified because they aren't authorized to speak publicly. The plan could be announced as early as next week at the start of climate talks in Bonn, the people said.
China, the world's biggest carbon emitter, pledged in 2015 to start a carbon market this year to help it cap emissions by about 2030. The nation is also making big bets on clean-energy projects in an effort to derive 20 percent of its energy from sources other than fossil fuels by that year.
Companies Included
It's not clear when carbon credits could actually begin trading in a national market, according to the people. NDRC didn't reply to a fax seeking comment.
Sophie Lu, head of China research at Bloomberg New Energy Finance, said it's not surprising the nation will start the system soon. "More importantly, we need to focus on what companies will be included," Lu said.
The system will adopt a cap-and-trade rule in which the biggest corporate polluters buy credits from those that don't emit as much, and companies are encouraged to cut their emissions so they can sell unused allocations.
The world's most populous nation began running pilot systems in seven regions starting in 2013 to guide the shape of the national system. Transaction value totaled 4.5 billion yuan ($679 million) in the pilot markets as of September, Li Gao, an official of the climate-change department at the National Development and Reform Commission, said at a briefing in Beijing on Tuesday.
"Based on experience from pilot schemes, there isn't a lot of proactive trading" among companies, Lu said, adding that trades may often occur at the end of a deadline when companies have to settle their carbon-quota allocations.
China is seeking to avoid excessive speculation in a carbon trading system, NDRC's Li said, without elaborating on details of steps the nation will take. The carbon market will be developed in a way that "makes progress while ensuring stability," Li said, adding that "we are confident in completing relevant work for building a carbon market" as planned.
— With assistance by Feifei Shen, Steven Yang, Amy Li, and Amanda Wang
Before it's here, it's on the Bloomberg Terminal.
LEARN MORE