Burberry's Christopher Bailey to Leave Before 2019
By
New CEO Gobbetti joined Burberry from LVMH's Celine label

Bailey had held CEO position at fashion brand since 2014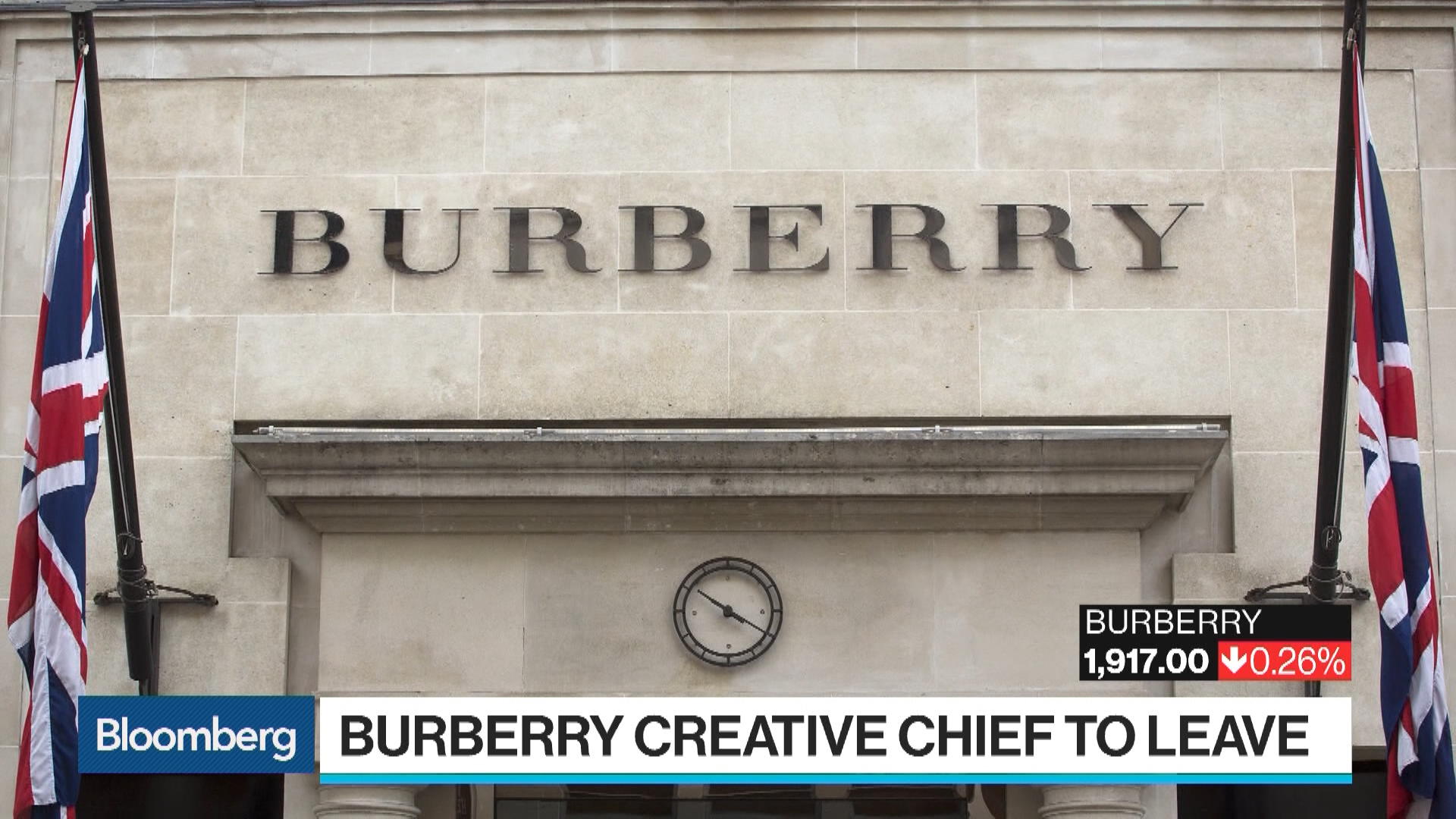 Burberry Group Plc creative head Christopher Bailey will leave after yielding the chief executive officer role to Marco Gobbetti, who's tightening his hold over the trench-coat maker as it tries to revive consumer interest in its trademark check.
Bailey's departure late next year will end an unusual power-sharing arrangement with Gobbetti, who took over as CEO in July after leaving LVMH's Celine. Burberry shares fell as much as 3.4 percent in London.
"Christopher Bailey's time as CEO plus creative director stretched him too far," Bloomberg Intelligence analyst Deborah Aitken said. The brand's most recent collection, prominently featuring its signature tartan plaid, "has had mixed reviews both on the catwalks and when worn by the A-listers."
Bailey said in a statement that he's leaving to pursue new creative projects, and the company said he'll forfeit share awards worth about 16 million pounds ($21 million) as of Monday's closing price. The 46-year-old executive is open to opportunities outside the fashion industry, especially as the worlds of luxury and technology draw closer, according to a person familiar with the situation.
Bailey's departure comes at a time of broader change in the luxury industry, with French conglomerates LVMH and Kering racing ahead on the strength of their portfolio approach, which reduces their vulnerability to the changing fortunes of an individual label. Kering-owned Gucci is setting the pace under designer Alessandro Michele, who has overseen a transformation that raised that brand's profile among millennial consumers.
Creative Shifts
In another potential high-profile shift, trade publication Business of Fashion reported this month that LVMH is interviewing candidates to replace Phoebe Philo as creative director of Celine; LVMH denied that her departure was imminent. Bailey's departure could clear the way for Philo to rejoin her former boss, Gobbetti, according to MainFirst analyst John Guy.
"It would seem to me logical that Phoebe Philo would move across and effectively recreate what was a very powerful combination," Guy said in a note.
Burberry's latest quarterly results showed signs of strength in China after a difficult few years for the company that followed the departure of former CEO Angela Ahrendts for Apple Inc. in 2014. The brand is seeking to boost its exclusivity after cutting its accessibly priced Brit and London lines as well as pulling out of many U.S. department stores whose heavy discounting held back its luxury aspirations.
Bailey worked with Gobbetti on a new strategy, and the CEO is expected to provide an update next week when Burberry reports interim results, according to the person familiar with the situation. While there were no major differences of opinion between the two, it became clear to Bailey while setting a new course for the company that he wanted a career change, the person said.
That's a change of tune from last year, when Gobbetti's appointment was announced. "We will work hand in hand," Bailey told Bloomberg TV at the time. "It wasn't a big decision for me whether I had a CEO title or not."
Burberry Check
Bailey has worked at Burberry since 2001, spearheading the brand's transformation from a British heritage label known for its outerwear into a fashion house with runway credentials. He oversaw the company's move to play down its tan check as a design statement after it became an emblem of British street fashion -- not the target market for an aspiring luxury brand. In September, Burberry showed off a new collection that featured the pattern more prominently in tote bags and other items.
Read more: Bailey's Exit From Burberry Is Just What the Brand Needs: Gadfly
Bailey added the CEO role three years ago after serving as creative chief. He'll remain in that post, as well as serving as president, until March and will support Gobbetti in a transitional role until the end of next year, the company said.
"While I am sad not to have the opportunity to partner with him for longer, the legacy he leaves and the exceptional talent we have at Burberry give me enormous confidence in our future," Gobbetti said in the statement.
— With assistance by Ashita Chawla
Quotes from this Article
Before it's here, it's on the Bloomberg Terminal.
LEARN MORE