Brexit Is Already Costing the U.K. Government $882 Million
By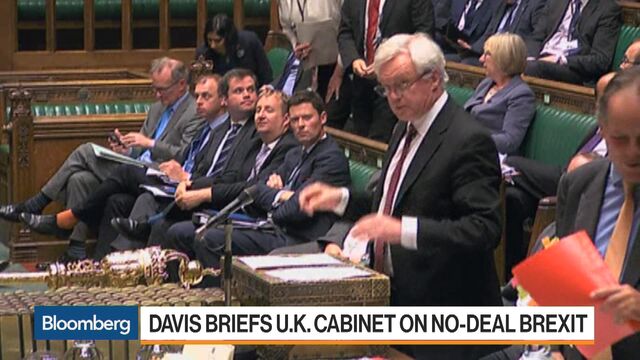 Getting ready to leave the European Union is already costing the British government more than half a billion pounds, as many as 8,000 civil servants and 300 programs.
Brexit Secretary David Davis shed light to Cabinet colleagues on the degree of expense undertaken to get the country ready. To be sure that's before the thorny issue of the divorce bill has even been tackled.
Prime Minister Theresa May's spokesman, James Slack, told reporters in London that gearing up for Brexit has added up to 662 million pounds ($882 million): 250 million pounds is funding that Chancellor of the Exchequer Philip Hammond had already set aside. A further 412 million pounds has been budgeted for coming years.
The government also said that almost 3,000 new government jobs have been created in support of Brexit, while Her Majesty's Revenue and Customs plans to recruit as many as 5,000 new staff next year. There are 400,000 civil servants in total.
What is it all for? The cash will pay for "preparations for implementing changes at the border; preparing for future new trade agreements; and converting existing EU law into domestic law on exit," May's office said in an emailed statement.
Before it's here, it's on the Bloomberg Terminal.
LEARN MORE