Whoever Replaces Chris Christie Faces Lingering Fiscal Headaches
By
Hazy plans from candidates for pensions, property-tax fixes

After eight years of cuts, calls for both slashing, spending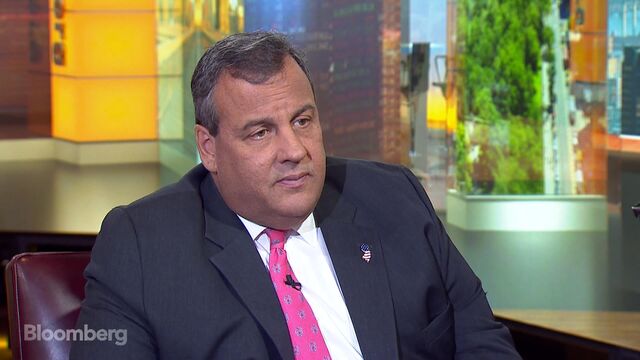 New Jersey's next governor will be either an ex-Wall Street Democrat who would raise taxes to bolster spending, or Republican Chris Christie's right-hand woman, who says she'd cut them as the state needs money more than ever.
Almost eight years after Christie took office vowing to restore fiscal integrity, New Jersey has yet to conquer its most pressing issues: the nation's highest property taxes and worst-funded pension system. Whoever is elected Nov. 7 also will inherit crumbling mass transit and Christie's record 11 downgrades by the three major credit-rating companies.

Phil Murphy, 60, a retired Goldman Sachs Group Inc. senior director and former U.S. ambassador to Germany, is the polling favorite over Lieutenant Governor Kim Guadagno, 58, to replace Christie, who is term limited. Both say they would strengthen the middle class and stimulate the economy, but are vague on details. In the past, each approach -- massive spending or deep cuts -- has had political or financial downsides.
"We went through this process in my election in 1993, when I said you couldn't cut taxes and the opponent, Christie Whitman, said yes, you can," said ex-Governor Jim Florio, a Democrat. "But you have to pay for that, and where they paid for it was not putting it into the pension system."
Florio was defeated after one term as voters revolted against a sales-tax increase. Whitman withheld billions from pensions to deliver a 30 percent income-tax cut, beginning the funds' downfall.
Here are the state's biggest trouble spots:
Pensions
New Jersey's public pension has 31 percent of what it needs to pay its obligations, the lowest funding ratio in the nation, according to data compiled by Bloomberg. Since the mid-1990s, governors from both parties have skipped or skimped on payments.

Christie skipped a pension payment during his first year as he inherited a budget deficit. He enacted benefit cuts in 2011 that shrank the liability. Then, the gap grew as he made partial contributions. Still, Christie has put $8.8 billion into the system, more than double the combined payments of all governors since 1995.
An S&P Global Ratings study found that contributions "remain significantly below" actuarial requirements.
"Some sort of tax broadening of the base, or tax increases, is going to have to be part of the solution," said Howard Cure, director of municipal research for Evercore Wealth Management, whose $6.8 billion under management includes New Jersey debt.

Property taxes
New Jersey, once a draw for high-ranking schools and proximity to Manhattan, in recent years has led the U.S. in residents fleeing to lower-cost states. Property taxes have risen 33 percent in the past decade, and the average annual bill consumes 11 percent of the median household income of $76,126.
Months after taking office, Christie enacted a 2 percent cap on annual property-tax increases. That helped slow the growth, though some towns were able to get around that limit because it allows exemptions for costs such as higher health and pension bills
Guadagno would cap the school portion of local tax bills at 5 percent of income, at a cost to the state of $1.5 billion a year, by her campaign's estimate. Murphy plans to raise $1.3 billion through taxes on the wealthy, corporations and -- he hopes -- marijuana sales, spending the proceeds on schools, property-tax relief, transportation and health care.
Murphy hasn't taken a position on renewing a law expiring at year-end that caps raises for police and firefighters, whose unions have endorsed him. The seven-year-old measure, favored by Guadagno, has saved taxpayers almost $3 billion, and homeowners are at risk of tax increases or service cuts if it isn't renewed, according to a state report last month.

Transportation
Mass-transit commuters are paying more for declining service. Starved for money, New Jersey Transit leads peers for rail breakdowns, accidents and fines. Under Christie, its operating subsidy was cut 90 percent, and his administration diverted $3.44 billion from capital funding to cover daily operations. Meanwhile, riders endured two fare increases, overcrowding and canceled trains.
Guadagno says that audits would identify savings. She also wants to add ferry routes and express trains, and divert to transportation the taxes paid to New York by New Jerseyans who work there.
Murphy wants to hire more personnel; share more Pennsylvania Station costs with its owner, Amtrak, and other tenant railroads; and expand ferry service and ticket cross-honoring with rail operated by the Port Authority of New York and New Jersey.
Both support construction of Amtrak's $30 billion Gateway project, which includes a new commuter-rail tunnel under the Hudson River to Manhattan. The decision to fund it, though, lies with President Donald Trump and Congress.
"The system needs to see a tremendous increase in operating funding," said David Peter Alan, chairman of the Lackawanna Coalition, a rider advocacy group. "All the grandiose capital programs in the world won't pay off, if services are being gutted."
Finance
New Jersey's credit rating is the nation's second-worst, behind Illinois, and almost all budget growth -- $34.7 billion for the fiscal year that started July 1 -- is consumed by debt payments and public workers' health-care costs.
The state is the 11th-largest by population, and has the fourth-highest debt per capita, $4,388. The U.S. mean is $1,473.
While New Jersey has regained the jobs lost during the last recession, it did so more slowly than the nation. The state now has about 100,000 fewer jobs paying above-average wages and 135,000 more paying below-average wages, according to a Rutgers University report Oct. 24.
Murphy has said the best way to raise revenue is to enlarge the economy. His proposals include a tax on millionaires, a higher minimum wage, free community college and legalized marijuana.
Murphy says he'd set up a public bank, modeled after North Dakota's, to loan money for college costs, infrastructure and small businesses, with interest returned to the New Jersey budget. The state's credit would improve with full pension payments, he says. It is now ranked sixth-highest investment grade by Fitch Ratings, and seventh-highest by Moody's Investors Service and Standard & Poor's.
Guadagno's plans include diversifying the $40 billion tourism industry, lowering taxes, expanding the manufacturing base and cutting regulations.
She has said she'd oppose taking on new long-term debt without voter approval. She'd also scrap Christie's $300 million bond-financed statehouse renovation and sell buildings and other surplus assets to reduce debt.

Before it's here, it's on the Bloomberg Terminal.
LEARN MORE