Trump's Big Fed Chair Reveal: This Week in Washington
By
Trump to announce pick by Nov. 3, before leaving for Asia trip

Republicans release tax overhaul legislation Wednesday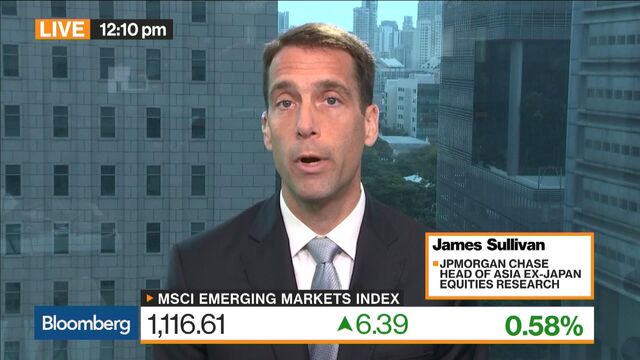 President Donald Trump played up the theatrics as he announced his plans to name a new Fed chief this week, setting up the big reveal during a week packed with market-moving information.
Trump is leaning toward appointing Federal Reserve Governor Jerome Powell to be the next leader of the Fed, according to three people familiar with the matter.
"People are anxiously awaiting my decision as to who the next head of the Fed will be," Trump said an Instagram video Friday. "It will be a person who hopefully will do a fantastic job. And I have somebody very specific in mind."
But the people familiar added a caveat, and a dash of drama, that's accompanied most of the administration's staffing and policy decisions -- Trump's choice isn't final and he could change his mind at any time.
Trump is also considering current Fed Chair Janet Yellen, Stanford University economist John Taylor and former Fed governor Kevin Warsh. National Economic Council Director Gary Cohn had been considered but Trump said he wants to keep him at the White House.
Trump is poised to unveil his pick before departing for Hawaii on Friday. From there, he'll embark on an almost two-week trip through Asia, his first as president, where he'll visit Japan, South Korea, China, Vietnam and the Philippines.
His expected announcement also comes as Fed officials this week hold their second to last monetary policy meeting of the year. Policy makers are projected to keep their target rate for overnight bank lending in a range of 1 percent to 1.25 percent when their two-day meeting concludes on Wednesday.
Taxes
House Ways and Means Committee Chairman Kevin Brady plans to unveil Republicans' tax overhaul measure on Wednesday, triggering a mad dash before Thanksgiving, when both chambers hope to have their tax bills passed.
The measure, which has been shaped mostly in secret, will be picked apart by lobbyists, Democrats and Republicans from high-tax states.
Brady sought to appease those lawmakers in his party by announcing on Saturday the bill would keep in place a popular break for property taxes. That same day, a major home builders' group said it opposed the plan after being told that the measure won't include a tax credit for mortgage interest.
Lawmakers will also look to the draft bill for clarity on 401(k) contributions, the size of the child tax credit, and where income brackets will be set.
After the bill release, congressional leaders face a delicate balancing act if they want to reach their goal to complete tax overhaul this year. The Senate could release its bill next week, according to Senate Majority Whip John Cornyn. After both chambers pass their bills, the measures will need to be reconciled.
Mueller Probe
Any momentum Trump was hoping for this week on his agenda could be stymied by developments in the federal probe into Russian meddling in the 2016 election, but the White House insists it isn't fussed.
The first charges from special counsel Robert Mueller's investigation could be announced as soon as Monday, according to multiple reports, while it's unclear who's implicated. The probe hasn't been a major discussion point among Trump and his advisers, and there is "zero anxiety" about the reports, according to a White House official familiar with the process who wasn't authorized to speak about the matter.
The question of whether or not Trump would -- or could -- pardon those who might be involved came up on weekend talk shows, with the president's supporters and critics alike debating if he could employ that power.
Trump has asked advisers if he could pardon aides, family members and even himself in connection with the probe, the Washington Post reported in July, citing people familiar. A pardon wouldn't necessarily be an admission of guilt, but any pardon would significantly hurt Mueller's investigation.
Other notable events
The Senate Foreign Relations Committee holds a hearing today with Defense Secretary Jim Mattis and Secretary of State Rex Tillerson to explore whether expanding U.S. operations to fight terrorism requires new congressional authorization for the use of military force

The recent deaths of four U.S. special operations troops in Niger has prompted lawmakers to revive efforts to update the existing law with a focus on terrorism rather than specific regions

General counsel for social media companies Facebook Inc., Twitter Inc. and Alphabet Inc.'s Google will testify in public hearings Wednesday before the House and Senate Intelligence Committees about Russian use of their platforms during the 2016 U.S. election
The Senate Banking, Housing and Urban Affairs Committee holds a confirmation hearing Wednesday on Scott Garrett, who's been tapped to head the Export-Import Bank, and other bank nominees

Garrett, a former New Jersey congressman who voted against renewing the bank's charter, has drawn scrutiny from the U.S. Chamber of Commerce and lobbyist groups

The Labor Department releases U.S. employment data for October on Friday at 8:30 am; U.S. employment probably increased by about 300,000 in October, while the jobless rate held at 4.2 percent, economists project
Read more
Before it's here, it's on the Bloomberg Terminal.
LEARN MORE