Tech Entrepreneur's Trial Is Biggest Battle of Career
By and
Amanat goes on trial for alleged fraud involving KIT Digital

Ex-KIT Digital CEO Tuzman also set for trial on fraud charges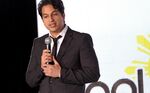 Omar Amanat, the embattled tech-industry socialite who married a model and helped produce some of the "Twilight" films, boasts on his website that an academic center once called him one of the world's most influential Muslims.
Now, a Manhattan jury is set to decide if Amanat's resume also includes fraud.
Federal prosecutors claim the New York native engaged in a complex scheme to hide disastrous trading losses at Enable Invest Ltd., a fund run by his brother, during the financial crisis. A father of six, Amanat faces years in prison if he's convicted. He has denied wrongdoing. His lawyer, Randall Jackson, declined to comment.
The trial is likely to take jurors into the two worlds straddled by Amanat, one in which he glided among the rich and powerful while in the other, prosecutors claim, he perpetrated a series of small-time cons, desperate to stay afloat.
The groundwork for Amanat's early success was laid in the basement of the family's home in Montville, New Jersey, where the son of Indian immigrants learned to day trade from his pharmacologist father.
By the time Amanat turned 30, the University of Pennsylvania dropout had gotten rich selling an online-trading firm he'd built and was refashioning himself as a mystic-quoting philanthropist and stylish intellectual. Often photographed in his trademark scarf, the entrepreneur threw himself into human-rights causes and bragged of his donations to museums. By 2007, he'd embraced a hobby: Hollywood production.
Family Connections
Boasting aside, there's no doubt Amanat has friends in high places. His first cousin is Huma Abedin, a close adviser to Hillary Clinton. The judge has ruled the familial connection can't come up at trial because it's not relevant to the case.
Amanat chronicles his background in a glossy personal website that highlights his business acumen, fashion sense and good looks. But there's no mention of Enable Invest or another company central to the case, the troubled video-software startup KIT Digital Inc.
Federal prosecutors claim Amanat conspired to manipulate KIT Digital's shares while defrauding investors in a hedge fund, Maiden Capital LLC. The goal, to prop up Enable Invest, didn't work out. The Dubai-based fund collapsed, as did Maiden Capital. KIT Digital filed for bankruptcy in 2013.
Amanat was arrested in July 2016 and charged with conspiracy to defraud KIT Digital's investors. A judge set his bail at $2.5 million and ordered him not to leave New York and New Jersey, where he lives with his family.
Amanat won't be alone at the trial. His co-defendant is former KIT Digital Chief Executive Officer Kaleil Isaza Tuzman, who languished in a Colombian prison after being accused of fraud in 2015. Tuzman, who has dual U.S. and Colombian citizenship, had a colorful history of his own.
For U.S. Dot-Com Star, Locked Up Abroad Is as Scary as It Sounds
The Harvard graduate spent more than four years at Goldman Sachs Group Inc., working in emerging markets arbitrage. In 1998, while at the bank, he co-founded govWorks.com, a website that promised to link people to local municipalities. He can be seen in the 2001 documentary "Startup.com" chatting with former President Bill Clinton at a summit about the Internet.
Tuzman's rise, fall and rise is the story of the tech industry. After govWorks.com collapsed in 2001, Tuzman went on to head at least three startups, including one that eventually was renamed KIT Digital. He left the company in April 2012, a year before it went bankrupt.
Tuzman survived harsh conditions in the Colombian prison. After he was returned to the U.S. in July 2016. U.S. District Judge Paul Gardephe denied his and Amanat's requests for separate trials, describing the alleged scheme as a "complex web of interrelated and overlapping fraud." Tuzman's lawyer, Avi Weitzman, declined to comment.
Worked Closely
The government's star witness, Maiden Capital's disgraced founder, Stephen Maiden, once worked closely with Amanat and Tuzman. His hedge fund was allegedly used to boost KIT Digital's and Enable's finances with bogus investments. Maiden also pleaded guilty, admitting to working with Tuzman to inflate KIT Digital's share price and trading volume. He's seeking leniency with his testimony.
Maiden's attorney, Richard Glaser, declined to comment.
In another boost for prosecutors, two former KIT Digital officials also pleaded guilty and agreed to cooperate. The company's former chief financial officer, Robin Smyth, and its ex-president, Gavin Campion, are both expected to testify.
Amanat's brother, Irfan, was charged and will be tried separately. He denies wrongdoing.
Even before his arrest, Omar Amanat's life wasn't nearly as perfect as his image suggested. He'd been accused of fraud by several ex-business partners and banned from the securities industry, and he filed for personal bankruptcy, court records show. Filings in his brother's case show that Irfan Amanat had a front-row seat to Omar's money problems. In a 2008 email, Irfan told Omar to stop tapping the family's investment vehicles to finance his lifestyle, according to court records.
"By constantly spending more than we are making, you are using all the liquidity and pushing us to insolvency," his brother wrote.
The case is U.S. v. Amanat, 15-cr-536, U.S. District Court, Southern District of New York (Manhattan).
(
Corrects name spelling in 15th paragraph.
)
Before it's here, it's on the Bloomberg Terminal.
LEARN MORE