Sprint's Merger Talks With T-Mobile Are in Peril
By
SoftBank board members are said to be concerned about control

DT is said to see valuation as an obstacle in discussions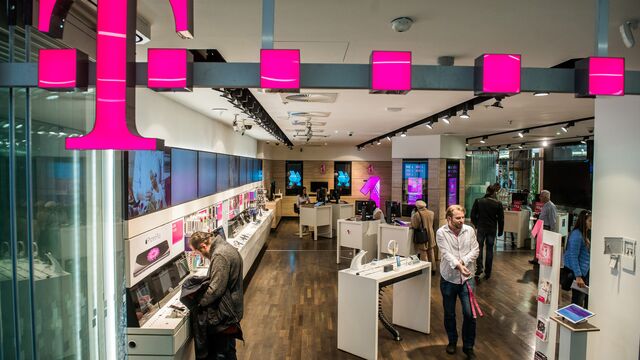 SoftBank Group Corp.'s talks to merge U.S. unit Sprint Corp. with T-Mobile US Inc. have hit a serious snag, according to people familiar with the matter, throwing the deal into jeopardy after months of talks.
In the past three days, the companies have been unable to get past differences over valuation, according to a person close to T-Mobile parent Deutsche Telekom AG, who asked not to be identified discussing private information. Meanwhile, several members of SoftBank's board have raised concerns about giving up control of the U.S. wireless business, another person said.
Sprint and T-Mobile have discussed a merger for years with many fits and starts, and it's unclear whether the companies will ultimately return to the table, the people said. The logic behind the deal has been that it would create a stronger third player in the U.S. wireless market and could use 5G high-speed technology to deliver data and video service robust enough to compete with cable companies.
"It makes sense not to have just two with such big market share and two little ones," SoftBank Chief Executive Officer Masayoshi Son said earlier in an interview on Bloomberg Television. "Three is a real fight, a real competition."
Sprint shares sank 9.5 percent in New York trading, while T-Mobile fell 5.5 percent. SoftBank fell as much as 5.8 percent in Tokyo trading.
The companies had been ironing out final terms of the merger in the hopes of announcing a deal in mid- to late November, people familiar with the matter told Bloomberg earlier this month. Nikkei reported Monday that SoftBank will propose ending the talks as early as Tuesday, citing the concerns about control of the combined entity.
While merger talks have been underway for months, SoftBank board members raised their concerns in the last few days because it's now a make-or-break moment, with the sides very close to a deal, the person familiar with the matter said.
"SoftBank's shares have climbed until now largely on expectations for the merger, so a negative reaction is to be expected," said Tomoaki Kawasaki, an analyst at Iwai Cosmo Securities Co.
For more on Softbank, check out the Decrypted podcast:

Deutsche Telekom and T-Mobile declined to comment. Sprint and SoftBank representatives didn't immediately reply to requests for comment.
Investors have cheered on a combination of T-Mobile, the third-largest U.S. wireless carrier, with No. 4 Sprint as a way to cut costs and forge a bigger competitor to take on AT&T Inc. and Verizon Communications Inc. Without the merger, the industry could return to the intense price wars that have put pressure on profits for all four major carriers -- to the delight of consumers, who have gotten heavy phone discounts and unlimited data service.
Sprint hasn't had a profitable year in a decade, leaving a pile of credits from net operating losses that could benefit T-Mobile. Sprint also controls the largest holding of 2.5 gigahertz airwave licenses in the U.S., a "crown jewel" that has been obscured inside a money-losing business. SoftBank's Son has considered measures like a spinoff of Sprint's airwaves to help extract some of that value.
"We have the densest network in the U.S. at this point," Braxton Carter, T-Mobile's CFO, said at a JPMorgan conference earlier this year. "You take the Sprint assets, you combine the two networks to have tremendous density. Then put the 2.5 in, and what that could do for 5G is give you massive future capex avoidance as this develops, and significant differentiation against the competition."
A deal between Overland Park, Kansas-based Sprint and Bellevue, Washington-based T-Mobile would be certain to attract heavy scrutiny from regulators, since it would reduce the four largest carriers in the country to three. Under former President Barack Obama's administration, officials fended off a previous attempt by SoftBank to merge Sprint with T-Mobile. The companies had been hoping their chances would improve under a more business-friendly Trump administration.
Deutsche Telekom, based in Bonn, Germany, has maintained throughout the talks this year with SoftBank that it should end up with control of the combined company. Tokyo-based SoftBank had been willing to accept a stock-for-stock merger that valued Sprint at our near its market price, with no premium, people familiar with the matter said last month.
— With assistance by Stefan Nicola, Scott Moritz, and Pavel Alpeyev
Before it's here, it's on the Bloomberg Terminal.
LEARN MORE