Catalonia Bows to Spanish Authority as Rajoy's Strategy Prevails
By , , and
Spanish prosecutor starts process to charge Puigdemont

Markets jump on signs that normality is returning to Catalonia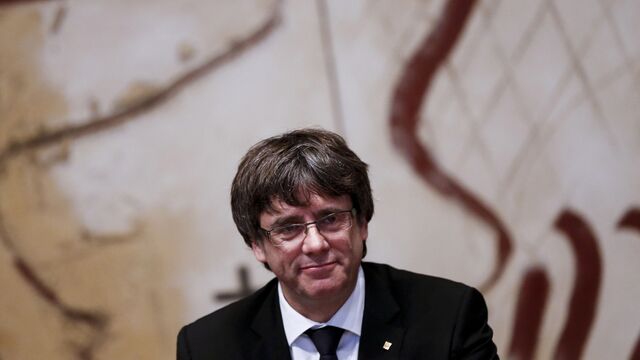 Spain took control of the Catalan government with little resistance, bringing the restless region back from the edge as grassroots supporters of the independence movement cried betrayal.
Prime Minister Mariano Rajoy emerged victorious, at least for now, over the Catalan rebels, who declared a breakaway republic on Friday but only after squandering the momentum they enjoyed since an illegal referendum on Oct. 1. With Spain's prosecutor pushing for charges of rebellion, ousted president Carles Puigdemont fled to Belgium, several newspapers reported, and La Sexta said he would seek asylum. His party didn't confirm his whereabouts.

Spanish stocks and bonds jumped on signs that normality is returning to the country's biggest regional economy.
While a handful of ousted officials went to work on Monday in a show of defiance, Puigdemont was nowhere to be seen and Madrid seized control without force or even much protest. Rajoy put the separatist leaders in a double bind by calling early regional elections -- they faced the choice of taking part and acknowledging that their breakaway republic is a fiction or boycotting the vote and becoming irrelevant.
"It looks like Rajoy has played the short-term game here in a very clever way," said Lluis Orriols, a political scientist at Carlos III University in Madrid. "Taking control of the government and calling elections for December makes it very hard for the independence movement to respond."
On Sunday hundreds of thousands of Catalans flooded the center of Barcelona to protest against independence and a poll on Monday showed just 34 percent of Catalans backed secession. The two main separatist parties will run in the Dec. 21 election, even as Esquerra Republicana called the vote "illegitimate."
Activists' Disappointment
Their decision left the grassroots activists that have driven the push for independence feeling betrayed by their political leaders, according to a member of the organization who declined to be named.  Until Friday, members of the movement were being told to keep up the pressure and defend the republic and were disappointed that the regional government's ousted leaders did little over the weekend to stake their claim. Unless Puigdemont "pulls a rabbit of the hat" it will be hard to revive the movement, he said.

Just three weeks ago members of the national police were ready to arrest Puigdemont at the regional parliament if he followed through on a pledge to declare independence. Thousands of police were stationed in a ship at Barcelona's port and the stakes were high: Puigdemont had long said he was prepared to go to jail for the cause. But he stepped back from the brink, or in the eyes of the independence movement, bottled it. He came to power in the first place on a pledge to seek independence and was propped up in parliament by radical anarchist-leaning separatists.
Rajoy has bided his time, seeking allies in Madrid who would back his crackdown on Catalonia. His government was initially criticized after images of police officers beating voters went around the world and his strategy has since become more measured. Last week, with support from other parties in Madrid, he unleashed the most potent measures available to him, firing Puigdemont, seizing the government and dissolving parliament.
Puigdemont could serve up to 30 years in jail if he's convicted of rebellion, and also faces charges of sedition and misuse of funds. But the justice system moves slowly and the step on Monday is just the start. Puigdemont will make a public statement from Brussels later, La Vanguardia reported.
"On Friday I was euphoric after the republic was proclaimed but that didn't last for very long," said Llum Polo, on her way to work at a healthcare foundation in Barcelona. She's worried about how the change in administration will affect the government funding for the institution where she works.
— With assistance by Thomas Gualtieri, and Charles Penty
Before it's here, it's on the Bloomberg Terminal.
LEARN MORE