Photographer: Meg Roussos/Bloomberg
Another Company Surges After Announcing Plans to Get Into Cryptocurrencies
By
Firm aims to add 'crypto accounts' by first quarter: CFO

Mogo account already offers loans, prepaid Visas and mortgages
Canadian online lender Mogo Finance Technology Inc. rose the most in eight months after moving a step closer to giving customers the ability to hold bitcoin and other cryptocurrencies in digital wallets.
Mogo shares rose as much as 35 percent, the most since the company's initial public offering in June 2015, and closed at C$5.15, up 31 percent. The move gives the company a market value of C$94.4 million ($73.6 million).
The Vancouver-based firm said Monday it added dedicated blockchain capabilities to accelerate plans to integrate bitcoin and other cryptocurrencies into its digital account. Mogo also said it hired Wayne Chen as senior product manager to lead development of the blockchain initiatives.
"Mogo should be able to offer consumers the ability to own and use cryptocurrencies in a simple, transparent and trusted way," Nikhil Thadani, an analyst at Mackie Research Capital Corp. said in a research note. He increased his target price to C$9 from C$7, saying the "crypto rollout should offer more upside as details emerge."
Watch Next: Five Reasons 'Bitcoin Jesus' Loves the Digital Currency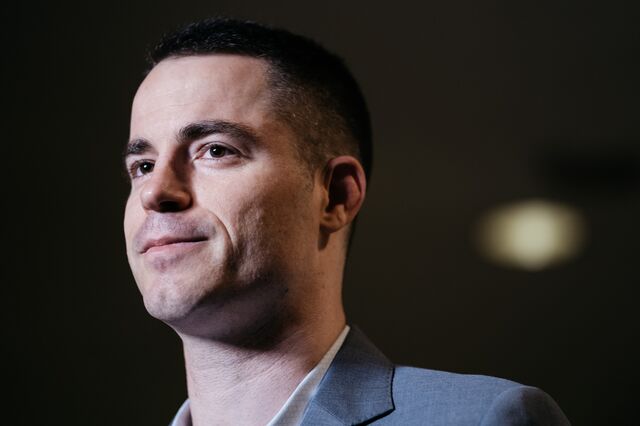 Mogo already offers Canadians a digital account that gives access to personal loans, prepaid Visa cards and mortgages through mobile apps or computer. The next step is incorporating a digital wallet for cryptocurrencies into its platform, and Mogo aims to add that function by the end of the first quarter, according to Chief Financial Officer Greg Feller.
Digital Wallet
"We're basically building a digital banking experience for the next generation of consumers," Feller said in a phone interview from New York. "Now, what we've announced here is that effectively we are going to be bringing a crypto account inside the Mogo account."
Mogo's advantage over others offering such cryptocurrency wallets is that Mogo is an established brand with almost 500,000 customers and already offers multiple products under a single account, Feller said.
"We have the ability now, because of the digital account that we built, to very quickly add new, innovative product and we've got the scale to roll them out," Feller said, adding that investors are starting to take notice. "As we continue to roll out new products, people are realizing that we truly are this platform company and that obviously is part of what people are starting to appreciate in the market."
Before it's here, it's on the Bloomberg Terminal.
LEARN MORE