Mnuchin Sees Limited Demand for Ultra-Long U.S. Treasury Bonds
By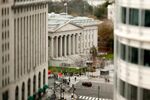 Treasury Secretary Steven Mnuchin put to rest for now the idea bubbling in the $14.2 trillion Treasuries market that the government might introduce ultra-long term debt sales.
"We've done a bunch of research and reached out and at least as of now, we don't see a lot of demand for it," Mnuchin said in an interview with Bloomberg News during a trip to the Middle East. He added that he initially thought the "concept of ultra-long bonds made sense for us to explore."

He didn't write the notion off completely, saying it may work under some scenarios.
"If we could issue ultra-long bonds at the same yield as 30-year bonds, it makes a lot of sense for us to extend the duration," he said. "If it turns out there's a big premium to issue ultra-long bonds, there's no reason for us to do that."
His comments caused a stir through the U.S. government-bond market. The Treasuries yield curve, or the gap between short- and longer-term maturities, flattened on the remarks, given that he had repeatedly expressed support for adding a longer maturity, possibly a 50-year, to take advantage of yields near historic lows.
The difference between five- and 30-year Treasury yields dropped about 0.01 percentage point to about 88 basis points.
"This is for now the death knell of the ultra-longs," said Thomas Simons, a money-market economist at Jefferies LLC. "It would be difficult to see a path forward given these comments in the near-term."
The government's borrowing needs are set to rise amid the Federal Reserve's balance-sheet runoff and as deficits are projected to swell. The expectation of increasing financing needs contributed to Mnuchin's interest in exploring the idea of adding super-long debt to the Treasury's arsenal.
The Treasury is scheduled to make its quarterly refunding announcement on Wednesday laying out the supply of longer-term debt it plans to sell to meet the government's financing needs.
— With assistance by Liz McCormick
Before it's here, it's on the Bloomberg Terminal.
LEARN MORE