The Man Behind Moviepass' 1,151% Rally Has Had 99% Wipeouts in the Past
By and
MoviePass backer invested in psychic hotline, penny stocks

'I don't know one entrepreneur out there that's had all wins'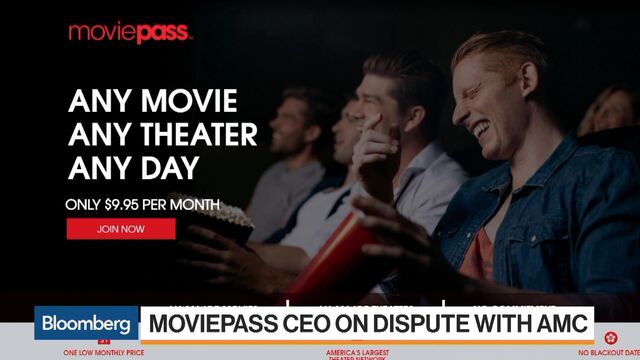 The film subscription service MoviePass hadn't gained much traction in the six years since it was founded. Then Ted Farnsworth came along.
Farnsworth, the one-time owner of a pay-per-call psychic hotline, bought into MoviePass in August through an obscure tech company he'd started running months earlier. The startup slashed the price of its all-you-can-watch movie theater pass to $9.95 and quickly announced 400,000 signups. A spectacular rally in Farnsworth's company, Helios & Matheson Analytics Inc., ensued: The stock soared 10-fold in the span of a month before the fever broke and much of those gains were wiped out.
Still, at a price of $10.74 a share (four times higher than its mid-September level), investors are taking a big flyer on a service that has failed to strike deals with any major cinema chains. That means it has to pay full price for tickets its subscribers use -- about $15 apiece in some big cities.
Farnsworth says that's not a problem. MoviePass will disrupt the movie industry, make money from targeted advertising and even get a cut of popcorn sales. If the service gets 2.5 million subscribers -- what he called a conservative figure -- "that could put that company's valuation, just MoviePass alone, north of $1 billion," he said.
Some of Farnsworth's past ventures haven't lived up to their billing. The 55-year-old spent several years in the murky world of penny stocks, thinly traded securities that spike on hype and fall just as quickly. Three public companies he led faded into obscurity after failing to deliver on their promises, and their stocks have all dropped to near zero.
Farnsworth said he had major success in the '90s as the founder of the Psychic Discovery Network, which touted its nationwide network of psychics in TV ads, charging callers through a 900 number. A 1996 filing says Farnsworth produced an infomercial featuring La Toya Jackson to promote a psychic network. A 1998 bulletin from the Federal Trade Commission warned about abusive pay-per-call services and listed Farnsworth's company as one that had received more than 50 complaints. Farnsworth said he knew of no complaints from the FTC.
Farnsworth said he's held stakes in more than 30 ventures with various partners. "These ventures were extremely successful and allowed me to become an angel investor in multiple private companies," he said in an email. The entrepreneur, who spends time in Israel and California, said he eventually sold his stake in the psychic business.
By 2001, he had gotten into penny stocks. Shares of three companies Farnsworth led dropped 99 percent during his tenure despite a steady stream of press releases about their ambitious plans.
The first was XStream Beverage Network Inc., which Farnsworth founded in 2001. He announced a deal to buy a European energy drink brand called Dark Dog, which he claimed was second to Red Bull in brand recognition. "They're like head-to-head. It's like a Pepsi, Coke-type thing," Farnsworth told Bloomberg in a 2002 interview. The deal was never completed. By the time Farnsworth resigned as chairman in November 2007, XStream's stock had dropped 99 percent.
The next month, Farnsworth reappeared as the CEO of Purple Beverage Co. and announced that the antioxidant-rich drink maker was going public in a reverse merger with a film company. The stock climbed as high as $3.24 in April 2008 as Farnsworth promoted it by signing up celebrity spokespeople, such as Chaka Khan. Sales didn't take off, and the stock dropped 99 percent by the time Farnsworth resigned a year later.
By 2012, Farnsworth was chairman of LTS Nutraceuticals Inc., a multilevel-marketing vitamin company. The firm's shares, which traded as high as $4.85 in 2011, fell 99 percent the next year and now trade for less than a penny. It isn't clear when he left that firm because it didn't make periodic regulatory filings.
In an email, Farnsworth said he invested his own money in LTS and XStream and took a seat on each company's board "but did not run the day-to-day operations."
Purple Beverage "was bad timing. Purple was a premium health beverage and we could not make it through the worst recession to hit the country since the 1930s," he said in an email.
"I lost money in that investment for sure -- my own money," he said separately in an interview. "I never sold stock. It wasn't like I walked away with money or got stocks going and then dumped the stock."
He said he'd learned from his mistakes, and had other successful investments. "I don't know one entrepreneur out there that's had all wins."
Farnsworth later founded an app maker that developed a crime map called RedZone Maps. That firm merged with Helios & Matheson, a money-losing information technology firm with about 19 employees at the end of last year. Helios & Matheson says on its website it consults for clients including TD Ameritrade and BMW.
Big Data
In January, Farnsworth was named CEO. Asked what Helios & Matheson does, Farnsworth stammered. "They do.... ummm... oh gosh, I don't even know how to explain it to you," he said. "Big data. Crunching data." A TD Ameritrade spokeswoman said the firm never says who its vendors are, and a BMW spokesman didn't reply to a request for comment.
Even before Farnsworth got involved with MoviePass, the service angered some theater owners, who said it was developed without their input. At one point, subscribers had to print out vouchers at home. Then MoviePass developed a debit card that gets loaded with the money to buy a ticket once users check in at the theater using a smartphone app. Subscriptions used to cost more than $30 a month.
"When you're very early like MoviePass, there will always be a lot of people who doubt the idea," Thomas Rudy, co-founder of Elevate Innovation Partners, a venture capital fund that backed MoviePass, said in an interview. "We really believe this is an idea that will come out on top."
CEO's Experience
Mitch Lowe, an early executive at Netflix and Redbox, became CEO of MoviePass in 2016. He also has some penny-stock experience from his time on the board of Medbox Inc., which claimed its vending machine would revolutionize the marijuana industry. The Securities and Exchange Commission sued the firm's founder for fraud in March, and he agreed to pay more than $12 million to settle the case.
Medbox's shares, once as high as $215, now trade for a hundredth of a penny. Lowe said he wasn't aware of any fraud when he agreed to join the board and that directors reported errors found in accounting to the SEC as soon as they learned of it, and warned the public that the financials were unreliable.
'Fairy Tale'
Helios & Matheson disclosed plans to acquire a majority stake in MoviePass in August, just over a year after Lowe joined. The price cut was announced in conjunction with the investment, and it got a lot of attention. Even the "Today" show did a segment, saying it "sounds like a fairy tale for movie fans."
Farnsworth said 150,000 people signed up in the first two days. Subscriptions climbed from 20,000 before the price cut to 400,000 in September, and have surpassed 600,000 as of last week. MoviePass upgraded its expectations to 3.1 million additional paying subscribers by August of next year.
Amid the excitement, Helios & Matheson's share price peaked at $38.86 on Oct. 11, valuing the firm at about $375 million.
Simple math shows that if 400,000 subscribers go to two movies in a month, at an average price of $9, the company would take in $4 million in revenue and spend $7.2 million on tickets, which would be a loss of $3.2 million. At 2.5 million subscribers, like Farnsworth projected, the loss would be $20 million. Helios & Matheson has advanced $11.5 million to MoviePass pending the closing of their deal, according to regulatory filings.
Long-Term Vision
Farnsworth acknowledged that the firm may lose money, but said subscribers may not go to that many movies. He said the profit would come from making deals with movie studios for licensing data or for advertising and that theaters would give MoviePass a cut of concession sales once they saw how much it increased spending.
In an email, Lowe said Helios & Matheson's technology will help MoviePass expand beyond film tickets.
"The long-term vision for MoviePass is to build out a 'Night at the Movies' concept that integrates all those activities a subscriber does before and after seeing a film, such as dinner, parking or getting an Uber/Lyft to the cinema," Lowe said. "Helios' mapping technology and data analytics, facial recognition and other assets will help us build that out."
Before it's here, it's on the Bloomberg Terminal.
LEARN MORE