Liberian President Denies Interfering in Vote for Successor
By
Ruling party turns against Johnson Sirleaf as run-off looms

Three parties claim fraud, irregularities during vote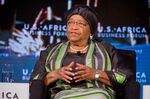 Liberia President Ellen Johnson Sirleaf said allegations that she interfered in the vote to decide her successor were tantamount to hate speech after her own party and those of other contenders accused her of trying to influence the election.
The ruling Unity Party said on Sunday it is supporting a request by the opposition Liberty Party that the Supreme Court annuls the Oct. 10 vote result and set a date for new elections. Fraud and irregularities were widespread during the vote while Johnson Sirleaf intimidated election officials, the parties said in a statement that was supported by a third candidate.
Liberia's soccer star turned politician George Weah, from the Congress for Democratic Change, won 38.4 percent of the first-round votes while Vice President Joseph Boakai, the ruling party candidate, secured 28.8 percent. They are due to face each other in a runoff poll on Nov. 7 after neither candidate secured the majority needed for an outright win. The Liberty Party's Charles Brumskine came third among the 20 candidates.
'Unfortunate Attempt'
Johnson Sirleaf didn't endorse or campaign on Boakai's behalf in the run-up to the election.
The allegations against her "are an unfortunate attempt by agent provocateurs to undermine Liberia's democratic process," Johnson Sirleaf said in a statement on Monday. "These allegations fall in the category of 'hate speech' and 'inciting language' which should be condemned and disavowed by all peace-loving Liberians."
The dispute over the vote comes as Liberia is seeking to mark its first transfer of power from one elected president to another in more than half a century. The nation in 2003 emerged from a civil war that lasted more than a decade and left an estimated 250,000 people dead.
Complaints about the elections will be dealt with through appropriate legal channels, Johnson Sirleaf said in the statement.
"The facts must speak for themselves, and not be obscured by rumor, innuendo, fake news and false narratives," she said.
Before it's here, it's on the Bloomberg Terminal.
LEARN MORE