Ex-Warner Music Head Edgar Bronfman Starts a VC Firm
By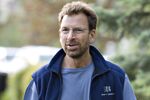 To the list of outsiders piling into venture capital in Silicon Valley, add one more: Edgar Bronfman Jr., the former head of Warner Music and the man who sold off the family business, Seagram Co., to French conglomerate Vivendi SA.
Bronfman, now a managing partner at New York-based private equity firm Accretive LLC, is starting a venture firm with veteran investor Daniel Leff. The new firm, Waverley Capital, aims to raise a debut fund of about $100 million, targeting media investments.
Last year, venture capitalists spent just $1.3 billion investing in media companies, about 2 percent of the capital deployed to all U.S. startups, according to data from the National Venture Capital Association and PitchBook. "There's almost no money in Silicon Valley going toward media," Bronfman said.
That's partly a holdover from the dot-com era, and in particular, venture-backed Napster, Bronfman said. The pioneering music-sharing service was shuttered after a multi-billion-dollar copyright suit that rocked the music industry. "Content and technology went to war with each other for a period of time," Bronfman said. His tenure at Warner Music overlapped with much of that conflict.
During a difficult time for the music industry, Bronfman had some wins at Warner Music, including a speedy embrace of digital music sales. But his tenure at Canada's Seagram, which included the sale of its highly profitable stake in DuPont to fund media acquisitions, ultimately led to the breakup of the company.
Bronfman and Leff said media is now entering an era where investors will show more interest in betting on the sector, in part due to companies like Roku Inc., the set-top-box maker that went public last month. The stock has gained 34 percent since the initial public offering, generating a solid return for early investors—including Leff, whose Luminari Capital backed Roku five years ago.
Overall, the media industry remains challenging. Online music services like Pandora Media Inc. are popular with listeners but unprofitable. Amazon.com Inc., Apple Inc. and Netflix Inc. are spending big on their own productions, making it tough for others to compete in content. Alphabet Inc.'s Google and Facebook Inc. are gobbling up advertising dollars that used to go to traditional media companies.
Meanwhile, competition among startup investors is fierce. SoftBank Group Corp.'s Vision Fund plans to deploy $100 billion in technology over five years. Although some investors worry the influx of cash is creating a bubble, Leff said Waverley won't contribute to it. "We invest with tremendous discipline, mostly at very early stage," he said.
Leff's Luminari Capital backed FuboTV, a sports-video service, and The Athletic, an online sports publication—both of which would be in Waverley's sweet spot, Leff said. Luminari Capital won't raise another fund, and Leff expects many of its backers to join as investors in Waverley. Bronfman, a Luminari Capital investor and adviser, will continue in his role at Accretive but plans to spend about half his time at Waverley.
Quotes from this Article
Before it's here, it's on the Bloomberg Terminal.
LEARN MORE