Balance of Power: Mueller's Shadow Looms Over Big Week for Trump
By and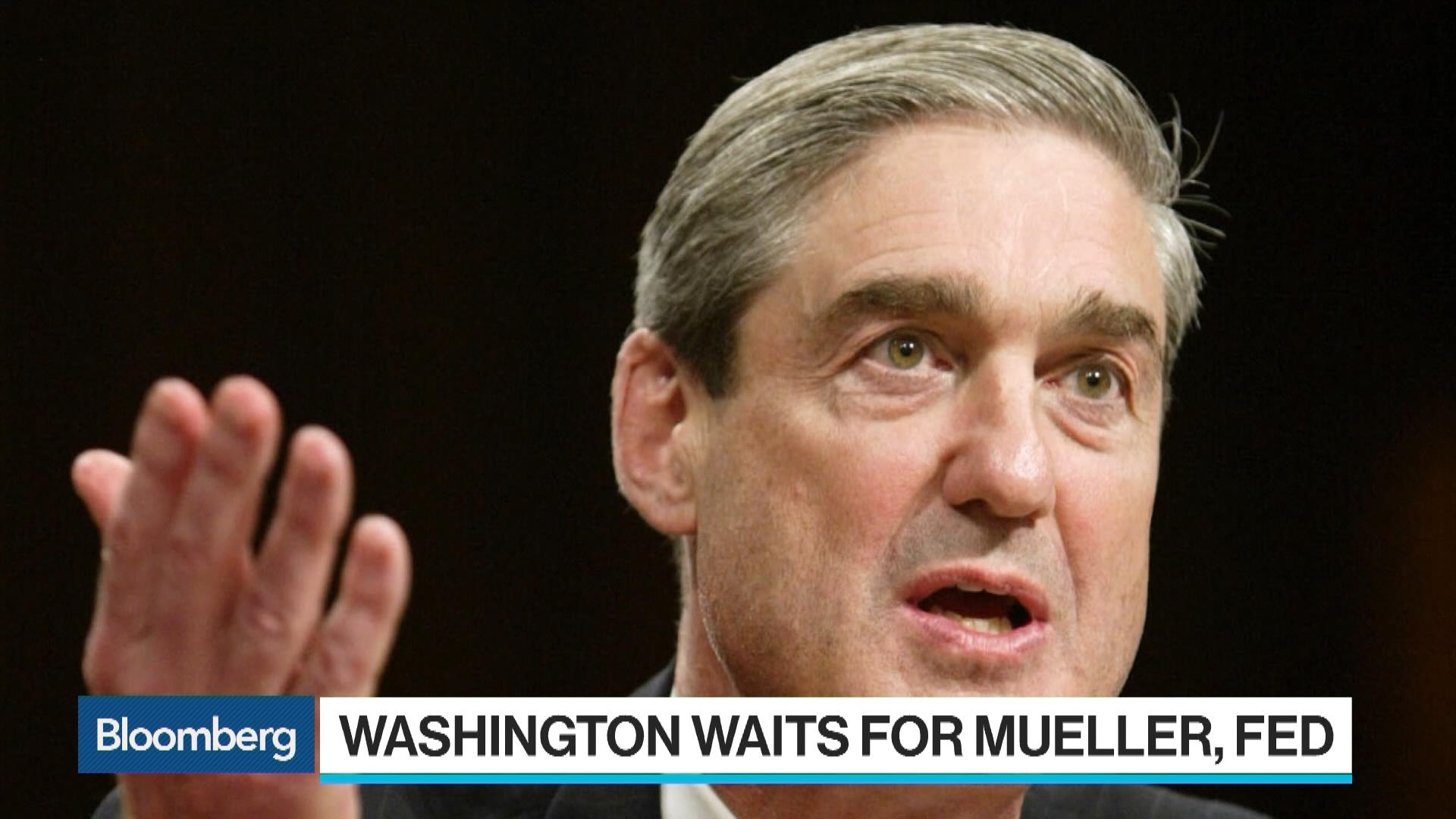 After six months, Robert Mueller is set to act.

The special counsel may unveil the first charges today in his probe of Russian meddling in the 2016 election and possible collusion by President Donald Trump's campaign.
Multiple reports say at least one person's been charged and could be arrested. It's unclear who that first target might be, what the charges are, or what happens next.
The spectacle threatens to overshadow a week in which Trump is slated to name a new Federal Reserve chair and embark on a trip to Asia. Congressional Republicans also plan to release the specifics of their tax revamp.
A White House official says there's "zero anxiety" about what might be in Mueller's sealed grand jury documents, but a string of testy Trump tweets yesterday -- about Democrats, Hillary Clinton's email, and a years-old uranium deal -- suggested otherwise.
"The Dems are using this terrible (and bad for our country) Witch Hunt for evil politics," the president tweeted.
And with Trump's fellow Republicans starting to turn against him, the forthcoming indictment could mark a key moment for his presidency.
Sign up to receive the Balance of Power newsletter in your inbox, and follow Bloomberg Politics on Twitter and Facebook for more.

Global Headlines
Catalonia's parallel reality | For Catalan separatists, today is the first working day of Europe's newest republic. For the rest of the world, it marks the start of Spain's push to restore control over the rebel region. The confusion may be cleared up once officials get to their desks -- prosecutors are preparing criminal charges against the ousted Catalan government that could be filed this morning.
Mr. Nice Guy | One of the most well-liked members of the U.S. Congress is about to offend colleagues, lobbyists and voters alike in his quest to rewrite the tax code to end breaks for businesses and individuals while cutting rates. Sahil Kapur and Erik Wasson take a closer look at Kevin Brady, the humble, ultra-disciplined House Ways and Means Chairman who plans to release tax legislation Wednesday.
Sexual harassment in Westminster | A brewing scandal about inappropriate behavior toward women by male U.K. lawmakers threatens to engulf Prime Minister Theresa May's government. Allegations are flying with a redacted list of names that allegedly included two Cabinet ministers. If revealed that May knew about what the British media are calling sex pests, her position could become untenable. For now, it remains to be seen how big the political fallout will be.
Trump cautioned on North Korea | Philippine President Rodrigo Duterte -- not known for tempering threats against his perceived foes -- is urging Trump to dial back the saber-rattling against North Korean leader Kim Jong Un. "Tell him nobody's threatening him, that there will be no war," Duterte said. The remarks provide a glimpse of the anxiety the U.S. leader might encounter during a 10-day Asian trip that begins Friday.
Europe's plate is full | The European Union says it has plenty on its to-do list besides managing Brexit. That could prove to be good news for May as she seeks a smooth U.K. departure from the bloc in March 2019. EU parliamentary elections in 2019 and other big-ticket items may shift the spotlight from the U.K.'s withdrawal and make it politically easier for the assembly to approve any deal on the terms of Brexit.
And finally… The world's hottest video game is set to be locked out of the world's biggest market. PlayerUnknown's Battlegrounds -- where competitors fight to the death -- is too bloody and violent, according to the China Audio-Video and Digital Publishing Association, and deviates from the values of socialism. There is little chance that the game will receive a license given previous bans on the TV series "The Big Bang Theory" and last year's remake of the movie "Ghostbusters." The fight may be over before it even started.

— With assistance by Flavia Krause-Jackson, and Andrew J Barden
Before it's here, it's on the Bloomberg Terminal.
LEARN MORE