After Vote Triggered by Scandal, Iceland's Future Is Unclear
By
Premier's conservative group emerges weakened after election

Vote opens up for potential center-left coalition government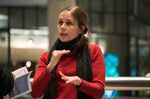 Iceland's weekend election has left the country with no clear political future as the arrival of several new parties in parliament spells drawn-out coalition talks and no obvious outcome.
"If I am completely honest, I don't know what to expect," Prime Minister Bjarni Benediktsson told local television RUV after meeting with the president. His Independence Party won the most votes, but saw its support considerably eroded as voters turned to smaller parties in protest.
Meanwhile, the election has opened a path to power for the nation's charismatic left-wing leader, Katrin Jakobsdottir. She has the opportunity to scrape together a narrow majority for a center-left coalition, according to Stefania Oskarsdottir, an assistant professor in political science at the University of Iceland. The 41-year-old Jakobsdottir is popular, with a pre-election poll showing one in two voters want her as the premier.
She has "more options" than Benediktsson, Oskarsdottir said. For the time being, the prime minister has said he considers it natural that he get the first mandate to form a government.
Benediktsson called the snap election after his coalition collapsed when it became clear his father had vouched for the character of a convicted child molester. Though perfectly legal, the connection triggered a furor in parliament, with lawmakers questioning the moral implications and accusing the Independence Party of secrecy over the matter. This month's vote comes just one year after Iceland lost a previous prime minister to the Panama Papers scandal.
Jakobsdottir has called for higher taxes on the rich. Her focus on inequality could make her the latest young politician to vault to power after the recent wins of Emmanuel Macron, Leo Varadkar, Sebastian Kurz and Jacinda Ardern, who are all in their 30s. She also wants to use dividends from the banks to rebuild infrastructure or reduce public debt, make Iceland carbon neutral and boost public spending on health and education.

Neither Benediktsson nor Jakobsdottir will be able to rule without the Progressives. Progressive Party leader Sigurdur Ingi Johannsson (himself a former prime minister), said on Monday he was leaning toward a broad alliance that crossed the traditional left-right divide.
Jakobsdottir would also need the backing of the long suffering Social Democrats, which doubled their backing in Saturday's election, as well as the Pirate Party. She said on Monday it would be "natural" for the parties on the left to be given the mandate to form a government.
Benediktsson has characterized the political uncertainty now facing Iceland as unprecedented, while Jakobsdottir says she sees an "exciting challenge," according to an RUV broadcast on Sunday.
President Gudni Th. Johannesson is speaking to party leaders on Monday before deciding who gets a mandate to start coalition talks. Last year, it took almost two months before a government was formed.
Before it's here, it's on the Bloomberg Terminal.
LEARN MORE