Trump Leans Toward Powell for Fed With Announcement Next Week
By and
Dims Yellen's chances for reappointment to lead central bank

Decision not yet final and Trump could still change his mind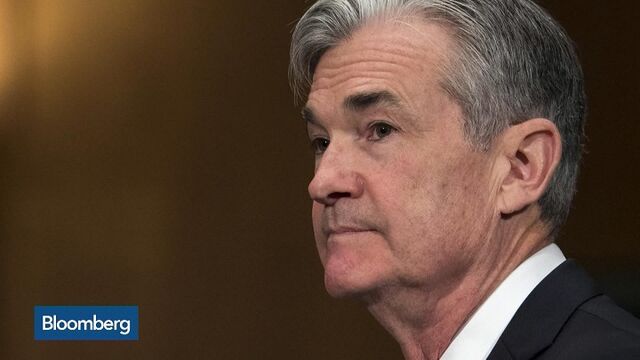 President Donald Trump stoked the sense of drama surrounding his choice for the next Fed chairman Friday as he tweeted out a video teasing an announcement he said would come next week.
The president is leaning toward appointing Federal Reserve Governor Jerome Powell to be the next chairman of the Fed, according to three people familiar with the matter.

"People are anxiously awaiting my decision as to who the next head of the Fed will be," Trump said in short Instagram video he sent to his 41 million Twitter followers. "It will be a person who hopefully will do a fantastic job. And I have somebody very specific in mind."
"You'll be very impressed," Trump promised, setting up a cliffhanger for an announcement that is typically a dry event mainly followed by financial markets and economists.
Trump's backing of Powell isn't yet final, the people cautioned, and Trump could change his mind at any time. Yet his preference for Powell dims current Fed Chair Janet Yellen's chances for a second term at the helm of the world's leading central bank.

Yellen's first term ends in February, and Trump has been working from a shortlist of five candidates developed by his advisers that includes the current chair and Powell. Other candidates he's considering are Stanford University economist John Taylor, former Fed governor Kevin Warsh and National Economic Council Director Gary Cohn.
Neither the president nor Press Secretary Sarah Huckabee Sanders would say whom he favors for the appointment.
The Bloomberg Dollar Spot Index dipped to session lows on news that Powell had emerged as the frontrunner, and yields on 10-year Treasury debt fell as much as four basis points to 2.42 percent. The U.S. stock market's benchmark S&P 500 Index extended gains.
A nomination for Powell is seen by investors as signaling continuity for monetary policy. Speculation he will ultimately be Trump's pick drove them to buy U.S. stocks and bonds.
Trump's advisers have been steering him toward choosing either Powell or Taylor for the job, according to several people familiar with the deliberations. All of the people who discussed the matter did so on condition of anonymity. Powell is favored by Treasury Secretary Steven Mnuchin, and Taylor by Vice President Mike Pence, people familiar with the matter have said.
Mnuchin on Saturday said Trump for now is focused on choosing the next Fed chair, not also on naming a new vice chair to replace Stanley Fischer, who stepped down this month. Trump in an Oct. 20 Fox News interview hinted that he may make two picks at the same time.
Talking to reporters during a flight to Abu Dhabi, Mnuchin declined to comment further on who he favors for the Fed chair position but said he'd spoken with Trump on the matter while visiting the Middle East this week.
"I do have a good relationship with Yellen," Mnuchin said. "I expect whoever is appointed by the president as the Fed chair I will continue that very good relationship, whether it's her or not."
Obama Appointee
Powell, a Republican who was appointed to the board in 2012 by President Barack Obama, has backed Yellen's gradual approach to raising interest rates and earned a reputation as a non-ideological pragmatist.
A lawyer by training, Powell managed the Fed's response to the 2014 flash crash in Treasury debt. The 64-year-old, who goes by Jay, served at the Treasury Department under President George H.W. Bush, eventually ending up as undersecretary for domestic finance.
Trump completed his interviews with Fed chair contenders last week, sitting down with Yellen at the White House on Oct. 19 for half an hour. Yellen, whose term as chair ends on Feb. 3, came across as polished during their meeting, and in the subsequent days, Trump went out of his way to praise her.
"In one way, I'd have to say, you'd like to make your own mark, which is maybe one of the things she's got a little bit against her," Trump told Fox Business Network. "But I think she's terrific, we had a great talk, and we're obviously doing very well together if you look at the markets."
Impressive Meeting
Taylor also impressed Trump after an hour-long meeting at the White House earlier this month, several people familiar with the matter said.
The president has said privately at least twice in the last week that he's ruled out appointing Cohn to the job, according to two people who heard the information directly from Trump. He's told advisers that Cohn is doing a great job in his current role and that he wants to keep him at the White House through congressional consideration of his proposed tax overhaul, according to another person.
Warsh, meanwhile, lacks support from Mnuchin, according to two other people familiar with the process, though they would not say why. His tenure on the Fed board has been criticized by a diverse group of economists ranging from Scott Sumner to Nobel laureate Paul Krugman. And his consideration for the top post has rekindled a feud with Randal Quarles, who was confirmed as a Fed governor and vice chairman for supervision earlier this month, people familiar with the matter said.
Mnuchin was aware of Quarles's concerns about Warsh, the people said.
— With assistance by Robert Schmidt, and Toluse Olorunnipa
Before it's here, it's on the Bloomberg Terminal.
LEARN MORE