Vladimir Putin Personally Fires Four Ballistic Missiles in Russian Drills
By and
President personally fired four missiles, Kremlin says

Russian nuclear exercises involved submarines, bombers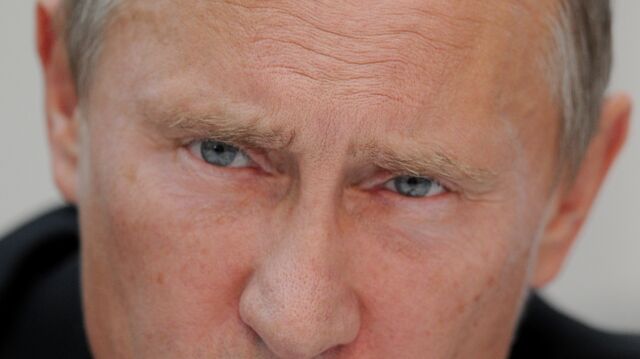 President Vladimir Putin personally fired four ballistic missiles during tests of Russia's strategic nuclear forces, according to the Kremlin.
Putin took part in exercises involving the nuclear triad of strategic bombers, submarines and land-based missiles located in different parts of Russia, his spokesman, Dmitry Peskov, told reporters on a conference call Friday. The drills "aren't connected with any international events and take place regularly," Peskov said.
Tupolev long-range bombers fired cruise missiles, while Topol intercontinental ballistic missiles were launched from the Plesetsk spaceport in northern Russia, the Defense Ministry in Moscow said in a statement. Two other rockets were fired from nuclear submarines in the Pacific Ocean and Arctic Sea, and all targets were hit during Thursday's exercises, it said.
The drills took place amid heightened international tensions after North Korea conducted its sixth and most powerful nuclear test last month. Russia shares a border with North Korea. Kim Jong Un's regime has also launched more than a dozen rockets this year, including two intercontinental ballistic missiles that he claims could reach as far as the U.S. East Coast. 
Amid an escalating war of words with U.S. President Donald Trump, North Korea has also threatened to test a hydrogen bomb over the Pacific Ocean. The nuclear crisis is likely to be high on the agenda when Trump visits Asia from Nov. 3 to Nov. 14, with stops in Japan, South Korea and China.
Putin urged all sides to "lower the rhetoric" earlier this month after warning that Trump's threat to destroy North Korea if the isolated Communist state attacked the U.S. was leading to a "very dangerous dead end." Trump ridiculed Kim as "little rocket man" in a speech to the United Nations last month, prompting North Korean Foreign Minister Ri Yong Ho to say the U.S. leader had lit the "fuse of war," according to the Tass news service.
Putin told a Kremlin gathering of military officers on Thursday that Russia held more than 2,500 military exercises so far this year, including the Zapad 2017 drills with Belarus.
Before it's here, it's on the Bloomberg Terminal.
LEARN MORE