Korea War Seen Killing Up to 300,000 Even Without Nukes
By
Up to 25 million on both sides of border could be affected

Grim assessment offered by Congressional Research Service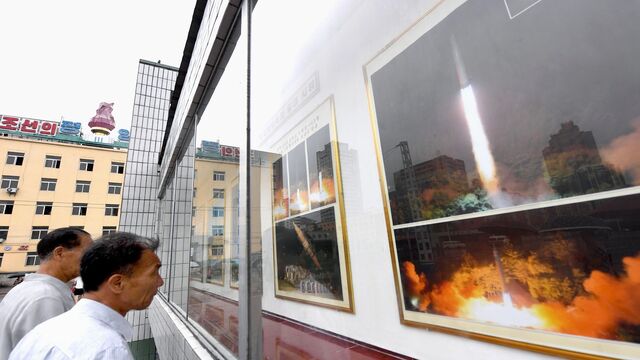 Renewed conflict on the Korean peninsula could kill hundreds of thousands of people in the first few days alone even if no nuclear weapons are involved, according to a new report by the Congressional Research Service.
Given population densities on the peninsula, military conflict "could affect upwards of 25 million people on either side of the border, including at least 100,000 U.S. citizens," according to a 62-page assessment sent to U.S. lawmakers Friday and obtained by Bloomberg News.
The grim report comes after tensions between the U.S. and North Korea peaked over accelerated missile and nuclear weapons tests by Kim Jong Un's regime, exacerbated by a war of words between Kim and President Donald Trump. Earlier Friday, Defense Secretary Jim Mattis visited the demilitarized zone between North and South Korea, saying the U.S. is continuing to pursuing diplomacy as the preferred choice to resolve the crisis.
Yet with the U.S. also saying that all military options are on the table, the CRS report laid out in sharp detail the consequences of a conflict. North Korea can rely on hundreds of thousands of artillery rounds within striking distance of Seoul, making it difficult for even a preemptive strike to prevent mass casualties.
Read a QuickTake Q&A on what a U.S.-North Korean conflict might look like
Even if North Korea "uses only its conventional munitions, estimates range from between 30,000 and 300,000 dead in the first days of fighting," the report said, citing North Korea's ability to fire 10,000 rounds per minute. Moreover, the conflict could quickly spread to involve forces from China, Japan and Russia.
"Such a conflict could also involve a massive mobilization of U.S. forces onto the Korean Peninsula, and high military casualty rates," the report said. "Complicating matters, should China choose to join the conflict, those casualty rates could grow further, and could potentially lead to military conflict beyond the peninsula."
Still, the report noted that some analysts say that allowing Kim's regime to acquire the ability to develop a missile capable of delivering nuclear warheads to the continental U.S. would be of even greater risk than the outbreak of regional war.
Trump is scheduled to visit South Korea as part of a tour through several Asian nations starting next week. U.S. Secretary of Defense James Mattis, in Seoul for annual military talks, reiterated Saturday that the use of any nuclear weapons by North Korea would be met with a "massive" response and said the threat had accelerated from earlier this year.
Bannon's Warning
Former senior Trump adviser Steve Bannon underscored the dangers of U.S. military strikes in August when he said in an interview with The American Prospect that "until somebody solves the part of the equation that shows me that ten million people in Seoul don't die in the first 30 minutes from conventional weapons, I don't know what you're talking about, there's no military solution here, they got us."
CRS doesn't go as far as Bannon, but its assessment presents lawmakers with a sobering view of what conflict could look like if the U.S. takes preemptive action against North Korea with the "fire and fury" Trump has threatened to rain on Kim.
"Few analysts believe that North Korea would launch an unprovoked attack on U.S. territory" but as the crisis continues to evolve "Congress could confront significant questions regarding its role in shaping U.S. policy in the region," it said.
At the same time, U.S. sanctions, diplomacy, and military shows of force "have arguably slowed" but "not halted the advance of North Korea's" weapons of mass destruction programs, CRS said.
The assessment acknowledges the pressure facing the Trump administration is heightened by the view of intelligence and military advisers that by next year North Korea is likely to have mastered all of the technology for an intercontinental ballistic missile capable of hitting the U.S.
Urgency of Talks
"This assessment implies that the timeframe for conducting military action without the risk of a North Korean nuclear attack against U.S. territory is narrowing" and "may increase the urgency of efforts to restart multilateral diplomatic efforts," it said. Some analysts maintain that the road to negotiations "could be strengthened and accelerated if both North Korea and China believe that a U.S. military strike" is "becoming more likely," CRS said.
White House Chief of Staff John Kelly said as much at an Oct. 12 press conference. Citing North Korea's ICBM threat, he said, "Right now, we think the threat is manageable, but over time it -- if it grows beyond where it is today -- well, let's -- let's hope diplomacy works."
Secretary of State Rex Tillerson said this month that diplomatic effort will continue "until the first bomb drops."
The CRS report also explored the possibility that a war between the U.S. and North Korea would quickly turn into a wider conflagration.
"A protracted conflict -- particularly one in which North Korea uses its nuclear, biological, or chemical weapons -- could cause enormous casualties on a greater scale, and might expand to include Japan and U.S. territories in the region," said CRS. "Such a conflict could also involve a massive mobilization of U.S. forces onto the Korean Peninsula, and high military casualty rates."
Clash With China
The U.S. also "runs the risk of a direct military clash with China," as occurred during the Korean War of 1950-1953, CRS said. It called China's reaction "perhaps the most significant geopolitical question arising from a military conflict."
Preemptive U.S. strikes "could risk a major rupture in its relationship with China," which is the top U.S. trading partner and holds as much as $1.15 trillion in U.S. bonds as of June, CRS said. The Trump administration has pressed China to cut off trade and exert other pressure North Korea to stop its nuclear program.
In addition to the horrific human toll of dead and wounded war on the Korean Peninsula, CRS said, a war "could lead to massive flow of refugees into northeastern China, where large numbers of ethnic Koreans reside."
— With assistance by Kanga Kong
Before it's here, it's on the Bloomberg Terminal.
LEARN MORE