Najib Gives 'Mother of All Budgets' as He Gears Up for Election
By and
2018 GDP growth projected at 5%-5.5%, 2017 forecast was raised

Fiscal deficit to narrow to 2.8% of GDP in 2018 from 3%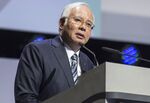 Malaysia's Prime Minister Najib Razak is preparing for an election battle.
Armed with higher revenue, he is cutting taxes next year and giving more exemptions while painting a rosier economic picture to lure voters battling higher costs of living.
The 2018 budget "takes into account the needs of all levels of society" and "is the most inclusive that has ever been tabled," Najib said in his annual speech before lawmakers in Kuala Lumpur, calling it the "Mother of All Budgets". It "dispels all doubts as propagated by the opposition."
| Key Projections | 2017 (original) | 2017 (update) | 2018 |
| --- | --- | --- | --- |
| Gross domestic product growth | 4.8% | 5.2% - 5.7% | 5% - 5.5% |
| Fiscal shortfall  | | 3% of GDP | 2.8% of GDP |
| Inflation | | 3% - 4% | 2.5% - 3.5% |
| Current-account surplus  | | 32.3 billion ringgit | 32.9 billion ringgit |
| Subsidies and social assistance | | 23.1 billion ringgit | 26.5 billion ringgit |
Malaysia's economy is outperforming neighbors like Indonesia and Thailand, with the World Bank forecasting growth of at least 5 percent until next year. Strong economic growth and rising oil prices will help boost revenue by 6.4 percent in 2018, allowing Najib to raise subsidies and social assistance by 15 percent after two years of cuts, helping to shore up his support with voters.
Najib's budget gave specific allocations to all key voter groups that matter — from longer maternity leave for private employees to funding for the development of Chinese villages and investment schemes for low-income Indians. 
Details:
lower tax rates for workers earning 70,000 ringgit ($16,500) a year and below
more exemptions for goods and service tax
2.2 billion ringgit budget for affordable homes
tax exemptions on operating charges for ports, building of schools, purchases of planes and ships by shippers and airlines registered in Malaysia
one-time payment of 1,500 ringgit to government workers
The government will spend on big infrastructure projects including the East Coast Rail Link and a highway connecting the Borneo states of Sabah and Sarawak, according to the report. It will also allocate resources to new growth areas like the digital economy and medical tourism. Small-and-medium enterprises will be given incentives to use technology to raise productivity.
Moody's Investor Service said the deficit reduction path is credit supportive but the revenue estimate is based on a somewhat optimistic growth projections for 2018.
"Given that the budget was silent on any major fiscal or revenue reform, it will be key to see to what extent the projected increase in revenues is achievable," said Anushka Shah,  Moody's Singapore-based sovereign analyst.

Election
Najib's United Malays National Organisation and the coalition it leads has ruled for 60 years. While it secured a strong win in a key state election last year and has benefited from opposition infighting, rising living costs could chip away at Najib's support.
Click to read Homes Just Aren't That Affordable, Central Bank Tells Malaysians
The positive growth outlook gives Najib reason to hold an election soon. Expansion has beaten estimates for four straight quarters and the central bank is expected to keep interest rates unchanged through 2018. The benchmark stock index has more than doubled from 2008 lows and is now the world's longest-running bull market.
"We continue to expect Prime Minister Najib Razak and his Barisan Nasional coalition to remain in power after the election which, in our view, implies the government will stay on a path of fiscal consolidation over the medium term," Nomura Holdings Inc. economists wrote in a report on Friday. "That, in turn, should support Malaysia's sovereign credit ratings."
— With assistance by Niluksi Koswanage, En Han Choong, Y-Sing Liau, Anuradha Raghu, Tien Hin Chan, and Elffie Chew
Before it's here, it's on the Bloomberg Terminal.
LEARN MORE