High Court Delays Voter-Purge Case Due to Lawyer's Medical Leave
By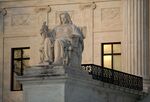 The U.S. Supreme Court is delaying arguments in a dispute over Ohio's system for dropping people from voter-registration rolls because one of the lawyers in the case is on medical leave.
Another attorney will take over arguing the case for the people challenging Ohio's voter-purge system and needs time to prepare, the court was told in a letter Friday. The argument had been set for Nov. 8, and the high court has removed it from the calendar. The challengers have asked that it be rescheduled in January or later. The case is Husted v. A. Philip Randolph Institute, 16-980.
Before it's here, it's on the Bloomberg Terminal.
LEARN MORE