Here's What Executives Are Saying About the Republican Tax Plan
By
Top managers are optimistic despite 'unpredictable' situation

'An opportunity that we can't let slip through our fingers'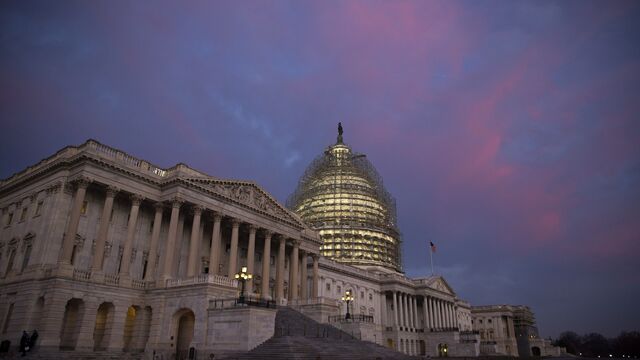 House Ways and Means Chairman Kevin Brady is expected to unveil a sweeping tax bill to remake the U.S. economy next week, and executives across America are already answering questions about how the plan will affect their businesses. The sentiment from America's C-suite was largely one of eager anticipation despite knowing few details about the coming proposal.
The following comments were collected by Bloomberg from earnings calls since Oct. 24.
John Stephens, CFO, AT&T Inc.:
"If we can get this right, we not only help U.S. businesses compete globally, but it will drive greater investment and job creation here at home. It should shift investment to the U.S. and help generate revenue growth for U.S. service providers. This is the key to driving greater productivity and GDP growth. Tax reform is the catalyst we need to spur investment. This is an opportunity that we can't let slip through our fingers." (Oct. 24)
David Abney, CEO, United Parcel Service Inc.:
"While the economic outlook remains fairly promising, we see further upside potential from U.S. tax reform, which we strongly support. The current proposal will provide great incentives for companies to both reinvest and create jobs at home." (Oct. 26)
Ken Jacobs, chairman and CEO, Lazard Ltd.:
"The devil's in the detail about how territorial tax works out and a lot of the other stuff that goes into how one will go about repatriating earnings from abroad, tax credits, and things like that. But look, we're a fan of tax reform, and if it takes place, it creates some very attractive opportunities for us." (Oct. 26)
Robert Frenzel, CFO, Xcel Energy Inc.:
"We believe a lower corporate tax rate is good for the economy, our customers, Xcel Energy and the utility sector. And we believe that the preservation of interest deductibility in lieu of bonus depreciation or expensing of capital is in the best interest of our customers." (Oct. 26)
Jay Wintrob, CEO, Oaktree Capital Group LLC:
"If there was a limitation or elimination of interest deductibility, and there was no grandfathering of existing companies, for those existing companies, obviously that would have a significant and clear negative impact. The likelihood of that occurring, you're guess is as good as mine. I don't think that will be the outcome in isolation." (Oct. 26)
Christopher Nassetta, CEO, Hilton Worldwide Holdings Inc.:
"And then the second form of benefit to the industry is just all of what tax reform means, which means businesses have more free cash flow to play with. That means that they hire more people, they invest more in plant and equipment, non-residential fixed investments should go up. It means if it's done the way that I'm hearing it's going to get done, you're going to have huge amounts of repatriation of money that's been trapped overseas coming home." (Oct. 26)
Navid Mahmoodzadegan, co-president, Moelis & Company:
"Obviously, the political situation is fluid and unpredictable, but look, I do think if there's meaningful corporate tax reform and, by that, I think the two elements that I think could potentially drive incremental M&A business are repatriation of overseas cash and significant reductions in corporate tax rates." (Oct. 25)
Keith Waddell, CFO, Robert Half International Inc.:
"Tax reform, again, any change is good. " (Oct. 24)
Before it's here, it's on the Bloomberg Terminal.
LEARN MORE