Catalan Lawmakers Vote for Independence in Defiance of Spain
By
Resolution asks for countries to recognize a Catalan Republic

Spanish Senate due to give power for premier to seize control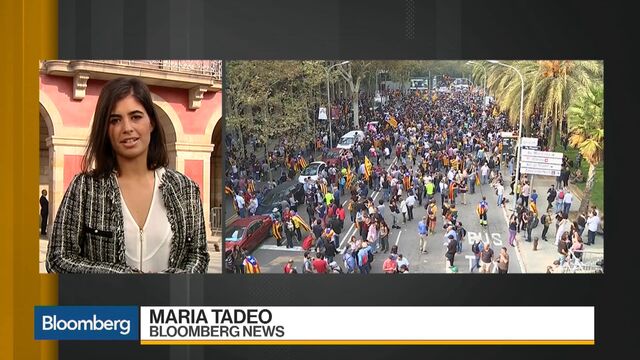 Catalan lawmakers voted to set up an independent state, an irrevocable step that augured a dramatic confrontation with Spanish authorities while delighting their supporters in the streets.
The resolution approved by the parliament in Barcelona said a new republic independent from Spain had been set in motion. The portion of the text submitted to a vote included measures to ask all nations and institutions to recognize the Catalan Republic. Separatist lawmakers broke into the Catalan anthem while opposition parties boycotted the vote.
"We constitute the Catalan Republic, as an independent and sovereign country, under the rule of law," said the preamble to the resolution, read out by speaker Carme Forcadell before the secret ballot.
Catalonia's tumultuous push for independence reached its climax with regional President Carles Puigdemont squeezed by the irreconcilable demands of his own hardliners and authorities in Madrid. In the past 48 hours, the Catalan leader sought to avoid the chaos of an illegal secession without provoking anger among his base.
The Spanish Senate is due to vote imminently on measures that will give Prime Minister Mariano Rajoy the power to oust the rebel leaders and take over the Catalan administration via Article 155 of the constitution. Rajoy called for calm immediately after the vote in Barcelona as crowds gathered in number.
Markets Fall
Spain's 10-year bonds dropped on the news, with the spread against benchmark German bunds widening by seven basis points to 119 basis points. The country's benchmark stock index, the Ibex, fell 1.8 percent, erasing Thursday's gain when it looked like all-out declaration of independence might be avoided.
"The clash is here and it won't be pretty," Antonio Barroso, a political risk analyst at Teneo Intelligence in London, said in an email to clients. "Tensions are likely to rise significantly over the coming days, especially as secessionist groups mobilize to stop the implementation of Article 155."
Pro-independence activists had called for a human shield around government buildings to thwart Spanish efforts to take control and protect their representatives. Yesterday, they focused their ire on Puigdemont, calling him a "traitor," as his commitment to declaring independence wavered. 
He already had postponed declaring a republic in the aftermath of the illegal referendum on Oct. 1 that set up weeks of brinkmanship. A senior Catalan official made a last-ditch trip to Madrid on Friday in the hope of securing concessions that would help Puigdemont put a brave face on a climb down.
The next move will be Rajoy's. "The rule of law will be restored in Catalonia," he said in a tweet.
Before it's here, it's on the Bloomberg Terminal.
LEARN MORE