quicktake
Why India Is Pumping $32 Billion Into State Banks
By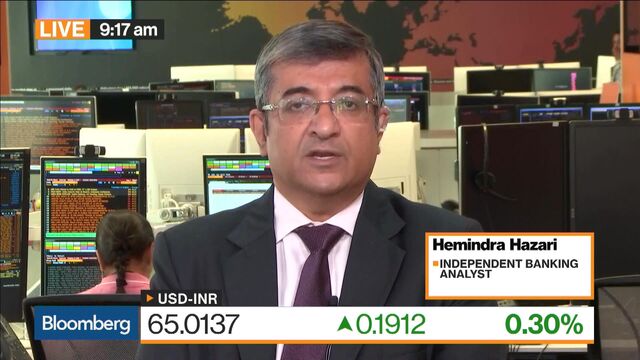 India's struggling state-run banks are getting state aid. The government said in October it would inject 2.11 trillion rupees ($33 billion) over two years. The move is part of Prime Minister Narendra Modi's goal to help lenders meet tighter capital-reserve requirements, as slower economic growth erodes borrowers' ability to repay loans. Soured debt is now the highest since 2000, hampering credit expansion that's needed to spur Asia's third-largest economy.
1. How big a deal is this?
Huge. The injection is more than twice the 930 billion rupees McKinsey & Co. estimates the authorities pumped into state-run banks between 2009 and 2016.
2. Where will the money come from?
Almost two-thirds (1.35 trillion rupees) will be raised from so-called recapitalization bonds. The rest (760 billion rupees) will come from "budgetary support" and the market. Morgan Stanley is calling it India's TARP -- a reference to the U.S. Troubled Asset Relief Program implemented in the throes of the financial crisis. The first details emerged in January, when the finance ministry sought parliamentary approval to issue about 800 billion rupees of bank recapitalization bonds during the current fiscal year.
3. What's the problem?
Soured loans have contributed to a $210 billion pile of zombie debt that's cast the future of some lenders in doubt and curbed investment by businesses. Credit growth has dropped to a 25-year low, putting a drag on India's slowing economy. The amount of stressed assets at state banks exceeds the value of the banks themselves, according to McKinsey, which warned that "as these stressed assets continue to turn bad, the entire equity base of the banks could be at risk."
4. Will the move spur lending?
Any pick-up is likely only after the banks have strengthened their balance sheets by cleaning up some of those billions of dollars of bad loans. CLSA said in October the plan should satisfy more than 70 percent of the banks' needs in order to raise lending. On the other side of the equation, demand from private businesses for loans has been subdued over the past few years and must recover in order for loan growth to revive, according to Citigroup Global Markets India Pvt.
5. Who will buy the bonds?
Judging by history, the banks themselves. They're flush with deposits following the ban on cash that Modi began implementing in November 2016. Their participation would have the benefit of limiting the impact on bond markets, said Vivek Kulkarni, managing director at Brickwork Ratings.
6. How will it affect government finances?
There'll be little impact on its target to shrink the deficit targets because, under International Monetary Fund guidelines, only interest expenses will be added; said to be more than 60 billion rupees each year, or 0.3 percent of total budgeted spending. Although India's accounting rules require the bonds to be included in the budget deficit, the government will probably reclassify them as off-balance sheet items, according to Kotak Mahindra Bank Ltd., as it did when similar notes were issued in the 1990s. The plan will front-load capital injections while staggering the fiscal implications over a period of time, Reserve Bank of India Governor Urjit Patel said in a statement.
7. How have markets reacted?

An index of state-banks is up about 20 percent since before the announcement, though bond investors have been more circumspect partly on concern about an oversupply of securities. Moody's Investors Service described the move as a "significant credit positive" for the banks and weeks later raised India's sovereign debt rating for the first time since 2004. Ratings companies have long criticized the banks for their weak core capitalization.
The Reference Shelf
— With assistance by Divya Patil, and Subramaniam Sharma
Before it's here, it's on the Bloomberg Terminal.
LEARN MORE