Venezuela's Bond Drama Has Investors Desperate for Information
By and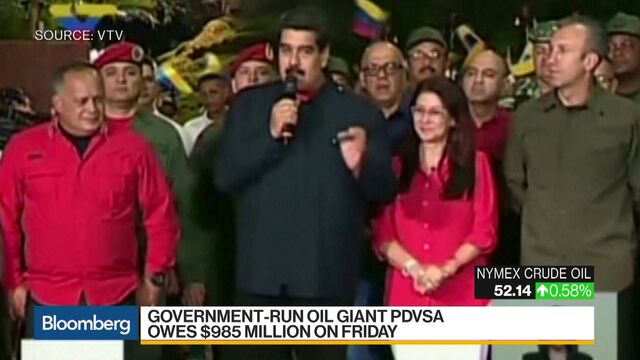 Venezuelan bonds sold off as the will-they-or-won't-they drama surrounding the state oil company's next payment leaves investors desperate for insight on what's to come.
A New York-based hedge fund manager who holds PDVSA bonds says he has the oil company, the public credit office, two clearing houses and a settlement service on speed dial, periodically calling each one to beg for any information on payments. A portfolio manager in London has his assistants checking in with Euroclear and Clearstream every few hours. Another investor in New York says he's had to learn the name of the folks who work in his back office since he's constantly reaching out to them to ask for updates.

The desperate tactics reflect the growing uncertainty over whether PDVSA will be able to be on time for two big payments due in the next week, and the high stakes involved. If the company is just one day late, investors can seek to declare an event of default and demand immediate repayment on almost all the oil producer's outstanding debt. It's already behind on some $500 million of interest payments that came with a grace period, but government officials keep reassuring bond holders that they have every intention of coming through.
Petroleos de Venezuela bonds that have a $985 million payment due Friday tumbled 3 cents to 81 cents on the dollar as of 2:41 p.m. in New York, leaving them near a five-week low. Notes that come due early next month also dropped, along with benchmark government bonds that mature in 2027.
"Fear is higher now because the deadline is approaching quickly," said Lutz Roehmeyer, who helps oversee about $14 billion at Landesbank Berlin Investment GmbH. "I am still confident that they find a creative way to pay."
One sign supporting the optimists is that while Venezuela and PDVSA remain late on interest payments, the company somehow this week got a $41 million payment to holders of its bonds due in 2037. Traders said they heard various explanations for how the money came in, including that it was routed via a Singapore-based account and that one step in the payment chain was skipped in order to get the funds to creditors faster.
One banker who's in emerging-market fixed-income sales in New York said that his only certainty is that no one really knows what is going on.
Before it's here, it's on the Bloomberg Terminal.
LEARN MORE