Former Head of Venezuela's State Oil Company Says Its Bonds Will Be Paid
By and
'I'm sure it will meet all its obligations,' Ramirez says

State-run oil company facing 'severe' cash-flow shortage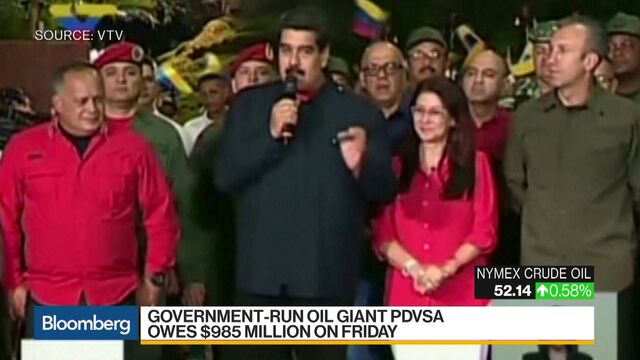 The former chief executive officer of Venezuela's state run-oil company said it will make debt payments this year and next, even as he acknowledged the crude producer is struggling with cash-flow and operational issues.
The company has "all the resources to honor its liabilities," Rafael Ramirez, who is now Venezuela's ambassador to the United Nations, said in an interview in New York. "We are not in a position to fail."
He urged skeptical analysts to focus on Petroleos de Venezuela SA's fundamentals and said investors can take comfort in the fact that the South American country sits on the world's largest oil reserves.
Ramirez sought to calm bond traders who have doubts that Venezuela and PDVSA, as the oil company is known, will be able to make more than $3 billion of debt payments before the end of the year in the face of an economic crisis at home and financial sanctions that have limited the country's ability to raise financing. PDVSA securities that mature in less than two weeks are trading at just 94 cents on the dollar, reflecting that pessimism.
Ramirez, who ran PDVSA from 2002 to 2014 and as oil minister was the longest-serving cabinet member under former President Hugo Chavez, said the company "has a well-developed structure and knows how to produce oil" even if it suffers from "severe" operational and cash-flow issues. He said the sanctions imposed by the U.S. in August, after what the Trump administration said were President Nicolas Maduro's moves to subvert democracy, are aimed at creating the perception the country won't be able to honor its debt.
"Venezuela is used to working under distress, under pressure," Ramirez said. "We have managed to not only diversify our oil markets, with China, India and Russia, but to diversify our financing alternatives."
Ramirez said that even with these problems, Venezuela has "no need to default" and that the company and country seek to "maintain our creditors' and partners' trust."
On Friday, PDVSA owes $985 million in interest and principal. Six days later, it's on the hook for another $1.2 billion. While the country's $10 billion in reserves suggests it has the cash to make the payments, it has struggled in recent months to transfer funds on time as the sanctions prompt banks to apply extra scrutiny to its financial transactions.
— With assistance by Ben Bartenstein, Fabiola Zerpa, Noris Soto, Jose Orozco, Nathan Crooks, Katia Porzecanski, David Marino, and Christine Jenkins Tanzi
Quotes from this Article
Before it's here, it's on the Bloomberg Terminal.
LEARN MORE