Ross Sees No China Deal on IP, Tech Transfer During Trump Visit
By
Secretary says there still may be deliverables in other areas

Nafta talks likely to conclulde by the end of March, he says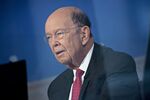 The U.S. and China will probably announce some "decent deliverables" when Donald Trump visits the country next month, but it will take longer to resolve complex issues like intellectual property rights and forced technology transfers, Commerce Secretary Wilbur Ross said.
"There will be some decent deliverables out of the Beijing meeting," Ross told the Economic Club of New York on Wednesday. China talks "about free trade, but in fact they practice highly protectionist behavior."
Trump plans to meet Chinese President Xi Jinping during a visit to Asia from Nov. 3 to 14. Since taking office, Trump hasn't followed through on threats to get tougher with China, despite launching a series of investigations into what he perceives as unfair trading practices. Ross visited Beijing last month to lay the ground work for the trade mission he's leading with U.S. exporters in November.
A Commerce Department review over whether steel imports from China and other steel producers has faced delays, while Trump backed down from a pledge to name the country a currency manipulator. The U.S. is also investigating China over its IP practices.
The Trump administration sees cooperation with China improving on North Korean sanctions, said Ross, although Chinese mobile-phone maker ZTE Corp. and other companies are "going their own way" on sanctions. ZTE agreed this year to pay as much as $1.2 billion for conspiring to break U.S. laws by illegally selling American technology to Iran.
On the re-negotiation of the North American Free Trade Agreement, Ross said he thinks talks with Canada and Mexico will conclude by the end of March. The U.S. would rather see Nafta fail than to accept a "crummy deal."
Before it's here, it's on the Bloomberg Terminal.
LEARN MORE