Hilfiger Says Making Clothes in America Remains Difficult Dream
By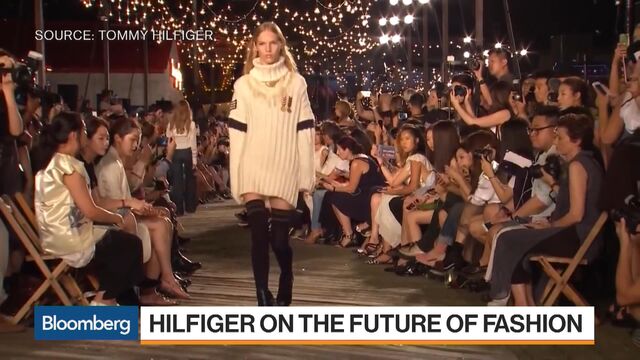 Fashion designer Tommy Hilfiger is known for his classic all-American style, but when it comes to the ideal of making all of its clothing in the U.S., he's not optimistic.
"'Made in America' is very important -- I would love to make everything in America if I could find the factories," Hilfiger said in an interview with Vonnie Quinn on Bloomberg Television. "They don't exist here in America."
Boosting manufacturing in the U.S. is a signature issue for President Donald Trump. More than 40 percent of clothing shipped to the U.S. is made in China, and seven of the top 10 importers are located in Asia. The apparel and footwear industry has argued that making more of its products in the U.S. would push up prices -- a view that resonates with Hilfiger, 66.

"It's my duty to bring the consumer the best product at the very best price," he said.
It's not the first time the designer has waded into topics that are controversial politically. Earlier this year, models for his brand wore white bandanas around their wrists to protest Trump's immigration ban. But Hilfiger also has criticized designers who were opposed to creating outfits for Melania Trump. He said they can dress the first lady and Ivanka Trump without getting political about it.
Hilfiger's brand, owned by PVH Corp., also has had to cope with the industry's shift to e-commerce. Relying on social-media influencers and other online channels is key to staying relevant, he said.
"You have to reach the consumer in many different ways," he said. "If people aren't with the program now, catching up is going to be very difficult."
Before it's here, it's on the Bloomberg Terminal.
LEARN MORE