Art
Five 'Hostage' Paintings Ordered Freed in N.J. Storage Dispute
By
Mugrabi claims Mana Contemporary holding up its business

Judge orders some works released and Mugrabis to post bond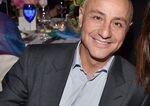 A well-known New York art-dealer family won the freedom for five paintings in a legal dispute over more than 1,300 works in its collection it claims are being held "hostage" at a storage facility in New Jersey.
New York Supreme Court Justice O. Peter Sherwood ordered Mana Contemporary on Tuesday to release five pieces of art in the Mugrabi family's collection or surrender the entire collection. The Mugrabi family was ordered to post a $1 million bond. A hearing is scheduled for Oct. 27.
David Mugrabi, the son of New York art dealer Jose Mugrabi, sued Mana Contemporary earlier this week, accusing the company of preventing the family from removing art from its Jersey City facility since last month while demanding more than $500,000 in storage fees. Mugrabi said Mana agreed in 2014 to store the collection in exchange for the Mugrabis' recommendations of the company's services to their clients. Mana's refusal to release the works has brought the family's art business to a "standstill," according to the complaint.
"They have no basis to hold that," said Aaron Richard Golub, an attorney for the Mugrabis. "They can't hold these things as ransom for what we consider illegal storage fees."
Mitchell Pascual, an attorney for Mana Contemporary, didn't immediately respond to messages seeking comment. Mana said in a statement after the lawsuit was filed that the Mugrabis have defaulted on a $500,000 payment for an "extended period of time."
Major Warhol Collector Says Art Stash Being 'Held Hostage'
The Mugrabi family owns the largest private stash of pieces by Andy Warhol as well as major holdings of artists such as Jean-Michel Basquiat and Damien Hirst. It says in the lawsuit its collection's value is at least $100 million. 
Mana Contemporary is an urban arts organization founded by Israeli billionaire Moishe Mana. Its Mana Fine Arts division in Jersey City provides services to the art-collection industry, including storage, shipping and restoration.
The case is Mugrabi v. Mana Contemporary, 159407/2017, New York State Supreme Court, New York County (Manhattan.)
Before it's here, it's on the Bloomberg Terminal.
LEARN MORE