Federal Prosecutors Issue Subpoenas in Manafort Laundering Probe
By and
Inquiry focuses on real estate tied to Trump ex-campaign cheif

At least three investigators are probing Paul Manafort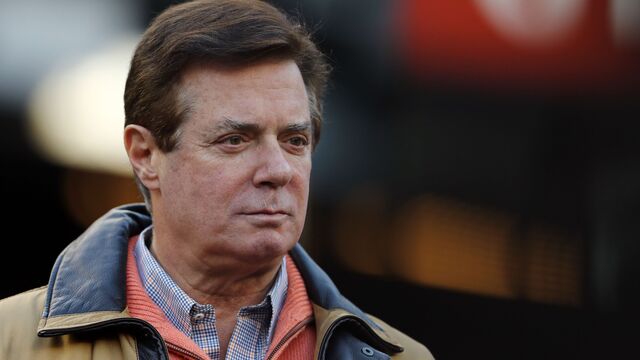 Federal prosecutors in New York have issued subpoenas as part of an investigation into whether former Trump campaign chairman Paul Manafort used New York real estate transactions to launder foreign money into the U.S. financial system, according to a person familiar with the matter.
The investigation was launched by the U.S. Attorney in Manhattan and subsequently handed off to Special Counsel Robert Mueller, who is probing Russian meddling in the 2016 presidential election. The issuance of the subpoenas in recent weeks by the Manhattan prosecutor indicates that the office has rejoined the inquiry and moved beyond the initial stage.
At least three law-enforcement offices are now investigating Manafort's transactions. New York At­tor­ney Gen­eral Eric Schneiderman­ is also probing potential money laundering by Manafort.
James Margolin, a spokesman for Acting U.S. Attorney Joon H. Kim, declined to comment. Jason Maloni, a spokesman for Manafort, didn't have an immediate comment on the issuance of subpoenas. Manafort has not been accused of wrongdoing.
The transactions at issue in the federal inquiry, according to other people familiar with the probe, mostly predate Manafort's role in Trump's presidential campaign. But any dealings between Manafort and individuals in Eastern European countries, including allies of Russian President Vladimir Putin, may help explain whether there was a relationship between Russia and the campaign. The people asked not be identified discussing a confidential investigation.
Should Manafort face criminal charges as a result of the deals, Mueller's team could use that as leverage to seek his cooperation with their probe.
The Southern District of New York has been led by Kim since Trump fired Preet Bharara and other U.S. attorneys in March. Last week, CNN reported that Trump personally interviewed a leading candidate for the U.S. attorney post in Manhattan, Geoffrey Berman -- an unusual move by a president especially with that office probing a former aide.
— With assistance by David Voreacos
Before it's here, it's on the Bloomberg Terminal.
LEARN MORE