Erdogan Gets a Rival in Turkey as Aksener Starts Her Party
By
Former nationalist interior minister forms the 'Good Party'

Says democracy under threat, path under Erdogan unsustainable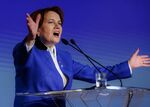 A veteran Turkish nationalist politician known as "she-wolf" by her admirers formed a breakaway party to challenge President Recep Tayyip Erdogan, a potentially vote-splitting move that could loosen his grip on power.
"Democracy is under threat," former Interior Minister Meral Aksener said Wednesday in an address to hundreds of supporters in the capital, Ankara. "The postmodern national 'chief' era has started, but it's not sustainable," she said in a reference to Erdogan's increasingly centralized rule.
The formation of the Iyi Parti, which translates as the "Good Party," is expected to divide votes in the 2019 national elections, when Turkey completes its transition to a governing system under a strengthened presidency. Even before the party was established, there were signs Aksener aspired to win over Turkey's largely centrist electorate as the first female candidate for the office of president. When her supporters affectionately chanted, "Prime Minister!" Aksener responded: "I will be president."
Erdogan is also expected to run for re-election. The president, who survived a July 2016 coup attempt that he says was carried out by followers of U.S.-based cleric Fethullah Gulen, has since overseen the purge of about 110,000 alleged Gulenist followers from state jobs. Banks, businesses and media outlets have been seized or shut down.
Tired Nation
"Turkey is tired, the nation is tired, the state is worn out," said Aksener, 61, who's affectionately called Asena, or she-wolf, by nationalist voters. "There is no healthy way other than changing this political climate."
The new party, whose constituent members also include former central bank Governor Durmus Yilmaz and former Public Works Minister Koray Aydin, was established nearly two years after Aksener and senior members of the Nationalist Movement Party, or MHP, failed to depose leader Devlet Bahceli as he supported Erdogan's quest for greater powers
The April 16 referendum on the executive presidential system handed Erdogan a slim victory, evidence of deep divisions within the Turkish electorate. Turkey's largest cities all voted against the measures, denting Erdogan's image as an invincible politician. Opposition parties claimed fraud after the elections board decided to count unstamped, unverified ballots.
"The April 16 referendum was a dirty referendum," Aksener told her supporters. Turkey's state structure has been "completely eradicated" since Erdogan became president, she said.
The new movement officially elected Aksener as party leader after her speech on Wednesday. The party has promised that women will account for 30 percent of the candidates on its election list. 
— With assistance by Selcan Hacaoglu, and Onur Ant
Before it's here, it's on the Bloomberg Terminal.
LEARN MORE