Chipotle Plunge Erases $225 Million From Executive Stock Awards
By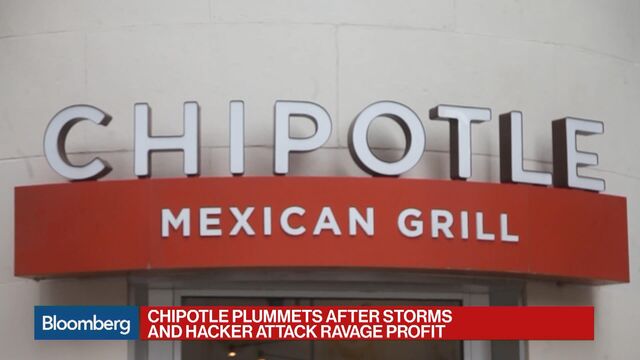 When shares of Chipotle Mexican Grill Inc. peaked on Aug. 5, 2015, four top executives held stock appreciation rights worth $225 million. For now, they're worthless.
A plunge of more than 60 percent since then has erased paper gains of $37.5 million for Chief Executive Officer Steve Ells, $34.8 million for Chief Financial Officer Jack Hartung and $10.7 million for Chief Marketing Officer Mark Crumpacker.
Montgomery Moran, who left the company in June after sharing the CEO job with Ells, may have taken the biggest hit. His awards were worth $142.1 million at the 2015 peak, when the shares closed at $757.77. It's unclear whether he exercised any of the securities this year.

Stock appreciation rights are similar to stock options as they generate gains when they're exercised above the strike price. The awards held by the four men have strike prices ranging from $318.45 to $543.20. Chipotle shares tumbled 15 percent to $276.02 at 11:41 a.m. in New York, a day after the company reported a profit that badly missed Wall Street estimates.
Read more: Chipotle's Terrible Quarter Comes With Litany of Reasons Why
Chipotle stopped granting stock appreciation rights after 77 percent of investors, at the 2014 annual meeting, opposed the company's executive-compensation plan. The awards were criticized by some shareholders for being too large and not sufficiently linked to performance, according to a regulatory filing.
— With assistance by Jenn Zhao, and Caleb Melby
Quotes from this Article
Before it's here, it's on the Bloomberg Terminal.
LEARN MORE