What We Learned From China's New Leadership Lineup
By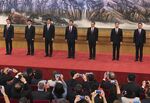 China's twice-a-decade meeting of the Communist Party ended in triumph for President Xi Jinping. Not only was his name and ideology elevated into the party's constitution, he broke with convention in the new leadership lineup unveiled Wednesday and chose not to anoint a successor.
That takes Xi into the second half of his 10-year tenure stronger than ever. He already amassed significant power in his first term -- collecting titles, heading policy committees and undertaking a sweeping clear out of party officials under the banner of an anti-graft campaign. Now, he's potentially laid the path to retain power in some fashion beyond 2022.
Here's what we gleaned from the unveiling of the seven-member senior leadership bench:
No country for young men
All five men appointed to join Xi and Premier Li Keqiang on the Politburo Standing Committee, the party's highest organ, will be too old under retirement conventions to govern for a decade from 2022. That's not to say Xi wouldn't tap a successor at some point. But the lack of younger blood in the lineup lays the groundwork for him to keep the focus in the next five years on his policy agenda and, in the longer term, to hold sway over the party.
Read: The Seven Men Who Will Rule China for the Next Five Years
Preeminent leader
The unmistakable message from the Party Congress and leadership bench is that China has moved away from an era of collective leadership and back to rule around a single person, according to Bloomberg Intelligence. An optimistic take on Xi's consolidation of power is that this could pave the way for an accelerated implementation of pro-market reforms. But in Bloomberg Economics' view, that is unlikely to be the case.
Corruption chief
New Standing Committee member Zhao Leji, 60, was named anti-graft chief, heading the Central Commission for Discipline Inspection. He'll be responsible for keeping Xi's anti-corruption drive on track. Xi has warned that graft poses the single biggest threat to the future of the party and purged more than 1.5 million members in his first five years in power, including top leaders previously viewed as untouchable. Zhao is among a handful of officials who have risen recently from far outside the political power centers of Beijing and Shanghai.
Economic focus
In another sign that Xi will concentrate on pressing policy issues, the party boosted Liu He, one of his closest economic advisers, onto the 25-member Politburo, which is one rung out from the Standing Committee. "Liu He's promotion is almost certain to give him more influence over economic policy making," according to Andrew Polk, co-founder of research firm Trivium China in Beijing. He appears likely to lead a new financial stability and development committee that was created earlier this year, Polk said.

Tackling inequality
Bloomberg reporters Keith Zhai and Lulu Yilun Chen meanwhile spotlighted a shift in economic policy that may have been lost in the Congress jargon of the past few days. Xi said China must confront the challenge "between unbalanced and inadequate development and the people's ever-growing needs for a better life." In other words, tackling inequality is becoming as important as growth, until now a key metric for measuring the performance of officials.
Clues for stock traders
Editorials in four state-run newspapers Wednesday envisioned how China should develop its capital market in Xi's "new era." The comments might offer some cues to traders, analysts say. The market should serve the real economy better, the Shanghai Securities News wrote, while the Securities Times said the vulnerability and complexity of China's capital market cannot be ignored.
Before it's here, it's on the Bloomberg Terminal.
LEARN MORE