Bipartisan Obamacare Bill Saves Little Money on Technicality
By and
Scorekeeper CBO issues report on Alexander-Murray legislation

Funding CSRs doesn't have a cost, because already included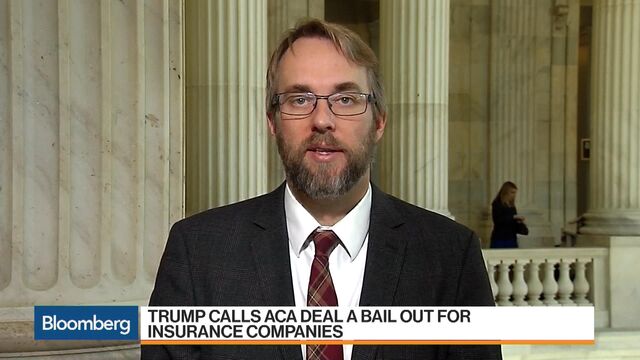 Congress's non-partisan scorekeeper didn't find any big savings for the U.S government in a Senate bill designed to stabilize Obamacare, but the reason for that is a technicality.
The bipartisan legislation, from Republican Senator Lamar Alexander and Democrat Patty Murray, would explicitly fund the Affordable Care Act's cost-sharing reduction payments through 2019, while offering more flexibility for states to set up their own insurance markets. This month President Donald Trump halted the payments -- which reimburse health insurers for offering reduced co-pays and deductibles to lower-income customers -- amid a dispute over their legality.
Funding the payments known as CSRs doesn't have a cost or benefit, according to CBO, because the they are already included in the agency's baseline estimates. The agency used the baseline that assumes the CSRs are made after consulting with Budget committees in the House and Senate, according to the report.
Without the payments, insurers are set to hike their premiums significantly for next year. The bill's sponsors say that under more realistic analysis, funding the payments would save the government some $200 billion over ten years.
"If CSRs are not paid, premiums in 2018 will go up an average of 20 percent, the federal debt will increase by $194 billion over ten years, due to the extra cost of subsidies to pay the higher premiums, and up to 16 million Americans may live in counties where they are not able to buy any insurance in the individual market," Alexander and Murray said in a joint statement shortly after the CBO released its report.
The Alexander-Murray proposal would reduce the deficit by $3.8 billion, CBO said. The agency also found that the measure would have little effect on the number of people enrolled in Obamacare's insurance markets.
Before it's here, it's on the Bloomberg Terminal.
LEARN MORE