U.S. Supreme Court Dismisses Remaining Trump Travel Ban Case
By
Justices will let lower courts look at latest version of ban

High court case had involved expiring version of travel ban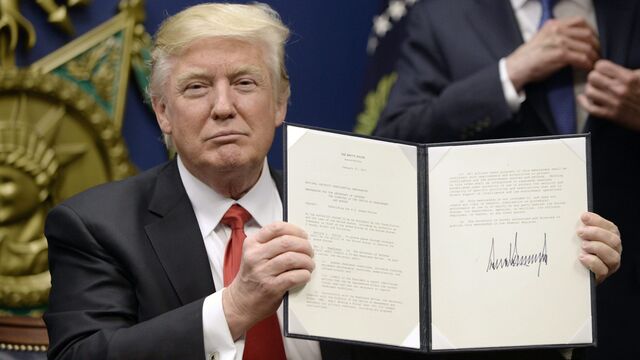 The U.S. Supreme Court dismissed its remaining case over President Donald Trump's travel ban, dropping out of the fight for the time being while lower courts scrutinize the latest version of the policy.
The case from Hawaii involved an earlier, temporary version of the policy, which restricts entry into the U.S. from selected countries. The Supreme Court had already dropped a related appeal and signaled it would similarly dismiss the Hawaii case once the policy's limits on refugees expired Tuesday.
The subject is almost certain to return to the Supreme Court, perhaps in a matter of weeks. Two federal judges have already blocked some or all of the new travel ban from taking effect, and the administration is appealing.
Challengers to the policy say Trump is exceeding his authority under federal immigration law and violating the Constitution by targeting Muslims.
The one-page order said the justices "express no view on the merits" of the challenge.
As with the previous case, the justices set aside a federal appeals court ruling that blocked the policy and might have served as a useful precedent for the latest challenges. Justice Sonia Sotomayor dissented from that part of the order.
Hawaii Attorney General Doug Chin said in a statement that the high court action "was not a surprise" and "has no effect" on the court order obtained by the state to block the current policy.
The revised policy, issued Sept. 24, limits or bans entry into the U.S. from eight countries: Iran, Libya, Somalia, Syria, Yemen, Chad, North Korea and Venezuela. It superseded a ban that had affected six mostly Muslim countries.
The case dismissed Tuesday is Trump v. Hawaii, 16-1540.
Before it's here, it's on the Bloomberg Terminal.
LEARN MORE