Taylor's Walk on Supply Side May Leave Him More Dove Than Yellen
By
Half of Goldman clients think he's more hawkish than market

His support of tax cuts may make him reluctant to hike rates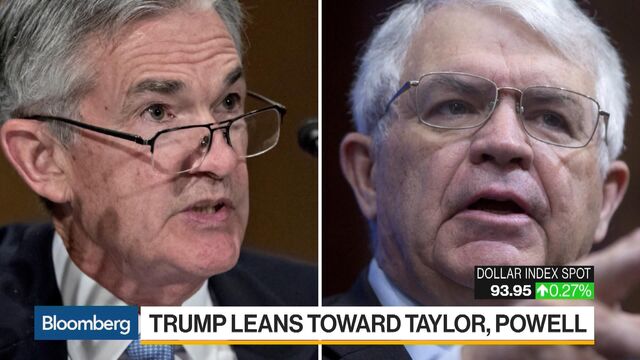 A Federal Reserve led by Stanford University professor John Taylor may end up being more relaxed about inflation than current Chair Janet Yellen when it comes to the impact of President Donald Trump's tax cut plan.
While Taylor believes the administration can substantially lift non-inflationary economic growth through deregulation and tax changes, Yellen is more cautious. That suggests that the Republican Taylor would be less prone than the Democrat Yellen to raise interest rates in response to a policy-driven economic pick-up.
"In the case of a large tax cut next year, a Taylor Fed could well turn out to be more dovish than a Yellen Fed," Joachim Fels, a global economic adviser at Pacific Investment Management Co., wrote in an Oct. 22 note to clients.
Trump has singled out Taylor, Yellen and current Fed Governor Jerome Powell as among a handful of candidates he's considering to head the central bank. The president told reporters on Monday that he was "very, very close" to announcing his nominee, who will have to be confirmed by the Senate. Yellen's current four-year term ends on Feb 3.
The conventional wisdom among investors is that Taylor generally will be more inclined to raise rates than Yellen. Half of 338 clients polled by Goldman Sachs Group Inc. on Oct. 13 rated Taylor as hawkish when compared to financial market pricing. A majority saw Yellen as neutral. Taylor's monetary policy rule calls for interest rates significantly higher than they are now in most iterations.

Yet when it comes to the Trump tax cuts, that presumption may not be correct. Taylor seems more open than Yellen to the possibility that Republicans can raise the economy's cruising speed to an annual 3 percent from about 2 percent recently without leading to overheating.
"The policy changes of the kind proposed by the Congress and the Administration, if enacted, would significantly improve the economy's growth prospects," he co-wrote in a July 18 note published by Stanford's Hoover Institution.
'Clear Strategy'
The note's authors -- who included former Fed Governor Kevin Warsh, another candidate for the top post -- did not spell out how the central bank should react to such a step-up in growth, though they did criticize current policy makers for not having a "clear monetary strategy."
If Trump appoints a chairman sympathetic to the notion that the economy can expand at a 3 percent clip, "that is going to lead to policy decisions that will lean in the direction of allowing growth to go on longer, to allow the unemployment rate to fall," said David Stockton, a former Fed official now at the Peterson Institute for International Economics. "We will see policy tilt to an easier direction rather than a tighter direction."
There would be a limit on how far a Taylor-led Fed would go, said Krishna Guha, vice chairman of Evercore ISI. His adherence to a monetary policy rule eventually would push the central bank to respond as tax cuts reduced unemployment and raised inflation.
Yellen told lawmakers on July 13 that it would be "wonderful'' if growth could be lifted to 3 percent but she added it would "quite challenging" to achieve that.
Yellen's Skepticism
Productivity, a key component of long-term growth, is "very hard to move," and a government policy that boosted it just a few tenths of a percent would be a "very good payoff," she said.
With the job market at or near full employment, the Yellen-led Fed has made clear that it sees no need for a temporary shot of fiscal stimulus. In fact, it is on a path to reduce monetary support for the economy by raising interest rates.
In an Oct. 3 note to clients, Guha said Yellen would probably accelerate rate increases if a tax plan passes because she would see it as primarily injecting more demand into the economy. The Fed has penciled in one more rate hike this year and three more in 2018, according to forecasts released in September.
Tax Breaks
Trump's proposal, currently being worked on by Republicans in Congress, would lower the tax rate for corporations to 20 percent from 35 percent and would provide them with a temporary tax break on their purchases of equipment and other capital improvements. It also proposes a revamp of the tax code for households.
In trying to sort out the economic impact of such changes, economists seek to distinguish between short-term demand side effects and longer-term supply side influences. The former tend to be inflationary, the latter, not. The trouble is that any package Congress ends up passing could do both.
"The Fed has some challenging times ahead," said Timothy Adams, president of the Washington-based Institute of International Finance.
"If you get a demand-side response and the supply-side response is lagged, how do you think about policy?" asked Adams, a former Treasury Department official. "If the stronger demand leads to higher inflation, do you try to look through that believing at some point the supply side will respond?"
A tax break for business investment, for instance, could prompt companies to increase capital spending, paving the way for faster productivity growth in the future. But those outlays would also increase demand in the near term. So too could any rise in equity prices that might accompany business-friendly alterations in the tax code.
Speaking in Washington on Oct. 20, Yellen voiced hopes that the program will be "rich" in supply-side incentives. In the end, the Fed's "appropriate response really depends on the nature of the tax package that's put into effect."
Before it's here, it's on the Bloomberg Terminal.
LEARN MORE